The personalization process is easy, thorough and fun. You get to choose ink colors, lettering styles, wording and more. We even give you suggestions for other items from Ann's that would look great with the item you're personalizing.
We'll take you through the process, step by step. You can change your mind about the options you choose, and if you need help, there is always a customer service rep waiting to talk with you through live chat or by phone.
So get ready! It's time to create the wedding you've always wanted.
This is where it all begins — the personalization process that makes your favorite invitation, gift or accessory truly yours. We'll use an invitation as an example, but the personalization process will be similar for all items.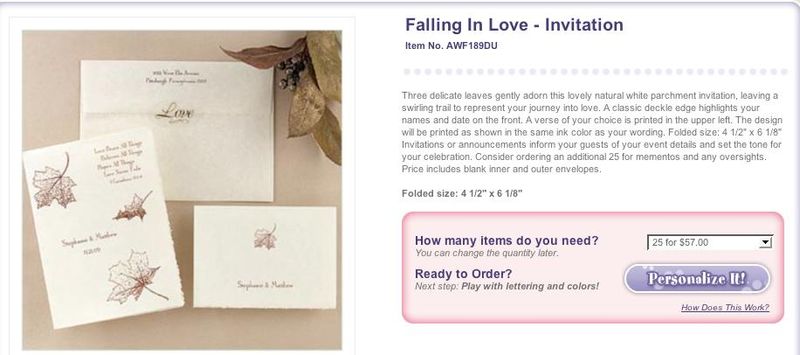 The "Personalize It!" button begins the process of personalizing your invitation for ordering. As you choose personalization options, a preview of your invitation will update with the change you selected.
Step 1. Lettering Styles
The first stage of the process allows you to choose an Ink Color for your wording (Just one?). Then you can choose a lettering style for your Main wording and your Accent wording. You can even change the font size for both the Main and Accent wording by selecting one of the four options listed below each category.
Want two lettering styles but can't decide what looks best together? Check out the Style Combinations our designers have chosen as their favorites.
Note: Throughout this process, just hit "Next" to go to the next step.
Step 2. Choosing a Verse
Step 2 allows you to choose the wording you want to appear on your invitation. Your invitation wording is referred to as a verse. We have a variety of verses for you to choose from, or you can write your own. As part of this step, you also get to choose how that verse will appear on your invitation if your invitation's design allows for different layouts.
Step 2 Cont.
Once you have chosen a verse, you will need to provide information to personalize the verse for your wedding. At this point, you still have the option to write your own verse or select a different verse.
Step 2 Cont.
At this point you can edit your verse and choose if you want the lettering style to be bolded. The second tab allows you to change the lettering styles and ink color if you'd like something different from what you originally chose.
Step 3. Inner Envelope Options
Now it's time to decide whether you want inner envelopes. If so, you get to choose whether or not you want a colorful liner to coordinate with your invitation. You can also order extras at this point.
Step 3. Outer Envelope Options
For your outer envelopes, you can choose to have a return address printed to save you time and hassle. This is also where you can order extra outer envelopes, just in case of any mistakes made when addressing your invitations.
Step 3. Choosing Enclosures
You have now finished personalizing your invitation and envelopes, which brings you to the enclosures page. Here you can choose how many reception cards and respond cards you will need. Depending on the invitation, you may have the option to purchase coordinating note cards and thank you cards.
Once you have chosen the items you want, you'll be able to personalize those items in the same manner as you personalized your invitation.
After you personalize your enclosures, Ann's provides you with a list of items that would go great with your purchase. For example, if you chose an autumn themed invitation, Ann's might suggest a gold-embossed leaf After you personalize your enclosures, Ann's provides you with a list of items that would go great with your purchase. For example, if you chose an autumn themed invitation, Ann's might suggest a gold-embossed leaf seal, favor boxes featuring leaf designs or an envelope moistener for all the mailings you'll be sending out.
Once you're finished choosing coordinating items, you'll come to your shopping cart. The shopping cart is divided into two sections: Ready to Personalize and Ready to Purchase. You can also order a proof of your item(s) here.
Below your Shopping Cart items is the Etiquette Review option. If you'd like a little more peace of mind about your invitation, just submit it to us and we'll review it. We'll let you know if there are any changes you may want to consider.
Your transaction total is at the very bottom, which can be recalculated at any time. Then to make sure your order is perfect, we ask you to review and approve all of your personalized items.
From start to finish, we try to make this process easy and thorough. If you have any questions about personalizing your products from Ann's, chat with a rep now or call customer service at 1-800-821-7011.