If you're about to shop for/purchase wedding
invitations, read this guide. It's simple, quick and will help you understand
the different pieces involved in a wedding invitation ensemble (a.k.a. wedding
stationery).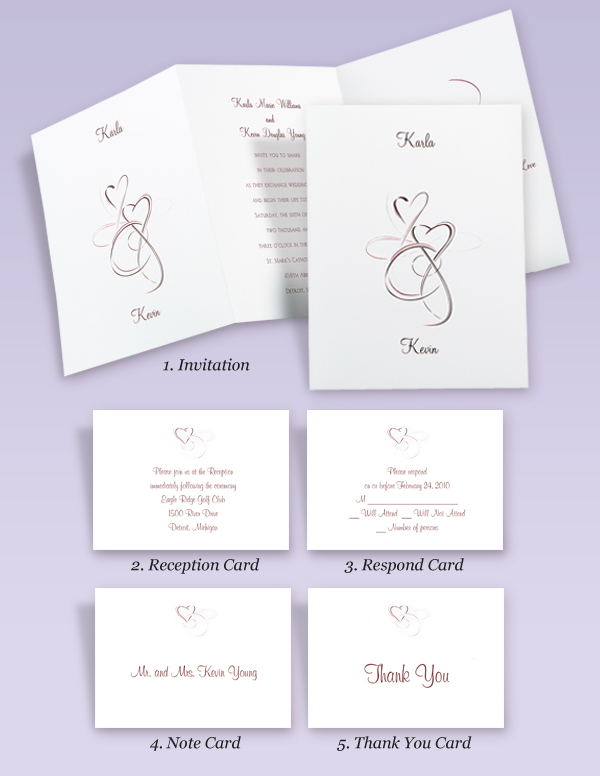 Skipped a Beat Wedding Invitations and Enclosure Cards

Save-the-Date (not shown): Ensure a great turnout for
your wedding with save-the-dates. Save-the-dates are printed with your names,
the wedding date and "invitation to follow," or any other wording you would
prefer. At Ann's, you can choose from our save-the-date selection or have any
wedding invitation printed as a save-the-date.

1. Invitation
The invitation establishes your wedding look and
informs guests of the date, time, place and hosts of the wedding ceremony.
Invitations are usually offered with coordinating enclosure cards. An enclosure
card is any card printed with important information for the guests and enclosed
with the invitation.
2. Reception Card
This enclosure card invites guests to the celebrations
following the ceremony.
3. Respond Card
This enclosure card is printed with guests' names, a
respond by date and number attending. The respond card is important for
establishing a guest count. Envelopes are needed and are tucked into the
invitation with the respond cards.
4. Note Card
The note card can be printed with your names or
monogram on the front to be used as general correspondence or thank you cards.

5. Thank You Card
Thank you cards are usually printed with "Thank you"
only and the couple handwrites a message inside. Some couples have a thank you
message printed inside, but it is proper etiquette to still provide a
handwritten note. Thank you notes are often purchased separately from the
ensemble, but enclosure cards can be printed as thank yous to perfectly
coordinate with your ensemble.  Every Ann's invitation offers a thank you card, or you can shop the Thank You Cards section.
Note: Enclosure cards can
be printed as map cards or at-home cards as well.