Respond cards are used for gathering an accurate guest count for your wedding, which is needed for both the caterer and the reception site. It pays to be diligent with respond cards. Having an accurate guest count saves money on food and rental equipment such as chairs and tables.
Respond cards are a part of the wedding invitation ensemble. After you find the invitation of your choice, you will be able to add the respond cards to your order.  They will be printed with a "respond by" date, "number attending" and choice of entrée, if you are offering one. Guests return the cards to you by the date indicated on the card, usually two weeks before the wedding. Respond cards always include envelopes unless you have chosen a separate 'n send invitation, seal 'n send invitation, or respond postcards. The envelopes are printed with the return address of the person compiling the guest count. This person may be the bride or groom, or it may be someone helping plan the wedding such as a mother, sister or friend. Also, remember to put a stamp on each respond envelope as a courtesy to your guests.
Wedding invitations (with respond cards) are usually sent 6–8 weeks before the wedding. Keep track of respond cards from the time the invitations are sent to about two weeks before the wedding. If guests have not replied by two weeks before the wedding, it is recommended to call guests to confirm whether they are attending.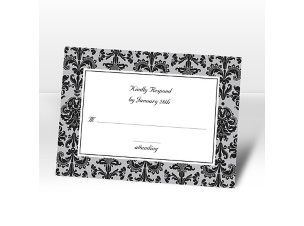 It is also recommended to finalize arrangements with a caterer about 2 months before the wedding. Once the guest count is gathered through tallying respond cards and confirmations through calling, the final guest count will go to the caterer and reception site at least one week before the wedding.