Today,
we salute one of our own.
A special message from
Ann's Bridal Bargains: The company president talks about his son's service in
the U.S. Army and what Memorial Day means to his family. (Keep reading to find
ideas for honoring loved ones at your wedding who can't attend.)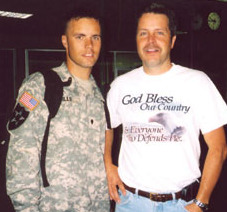 Q: What is your son's title
and how long has he served in the military?
A: My son is a specialist
in the 4th Stryker Brigade Combat Team, 2nd Infantry Division, of the U.S.
Army. He has been serving for more than four years.
Q: How do you feel about
your son being in the military?
A: Two words: pride and
fear. He has served his country willingly, responsibly and admirably, but of
course, we have been through several hard times where we have experienced a
very real fear for his safety.
Q: How does your family
celebrate Memorial Day?
A: We have always
prominently displayed patriotic decorations around our home along with having a
grill-out for friends and family, but when our son joined the army and spent
his first tour in Iraq, the day took on a whole new meaning. We now feel an
overwhelming sense of pride and support for all those who have and continue to
serve our country.
Q: Do you have any advice
for the friends and families of those who serve our country?
A: Be supportive – We came to realize it was not overly important to
know everything our son was doing in the military; it was more important to
express our support every time we talked to him.
Be patient – The desire for regular communication with a
military loved one can often be met with delay, so a little patience is
required.
Be proud – Serving in the military is one of the most
honorable forms of patriotism one can demonstrate on behalf of their country.
Display your pride however you see fit, and publicly show your gratitude to all
who have and are serving by thanking them, no matter where you are (airport,
restaurant, etc.).
Include the
people you love in your special day, no matter where they are.

If someone you love is in
the military and can't attend your wedding, do something special in honor of
that person. Set up a photo with a summary of how long your loved one has been
in the military, his/her title and duties. Set out a photo book dedicated to
your relationship/friendship. Have friends and family sign a page or two in the
photo book with the things they enjoyed about the wedding, and give the photo
book to your loved one on his/her return.
If you'd like to remember a
loved one at your wedding who has passed, there are several options for
creating a nice memorial. Display an In Loving Memory vase with a beautiful
arrangement of flowers at the ceremony and the reception. Include a nicely
framed photo of the loved one with the flowers. Or include an In Loving Memory
candle in your wedding ceremony. You choose a time within the ceremony to light
the candle in remembrance of your loved one.

We at Ann's Bridal Bargains
offer our sincerest thanks to all members of the military and the families and
friends who support them.   This Memorial Day Weekend we would love to know your military story too, click comments and share.  Enjoy the long weekend!