When it comes to discount wedding invitations Ann's Bridal Bargains is a Bargainista's dream — but today, we're doing the bargain shopping for you!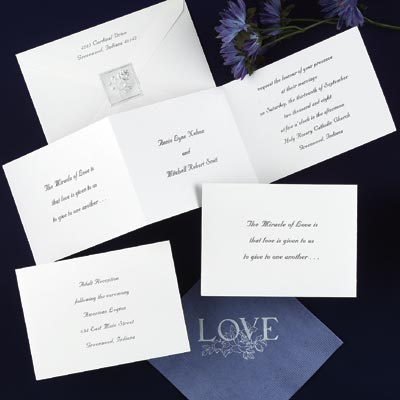 1. All in White – Invitation$38.00 Per 100 (design option available)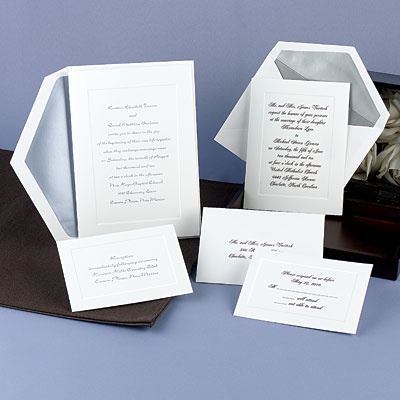 2. Touch of Sophistication – Invitation$40.00 Per 100
(This invitation is available in soft white and ecru. See Taste of Tradition and Going Once.)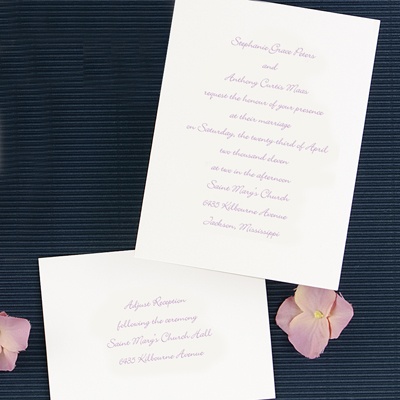 3. Pure Tradition in White – Invitation$40.00 per 100
These discount wedding invitations are our most inexpensive for a reason — they're simple! Some brides love the simply clean look, but if you'd like to jazz yours up a bit, here's how:
Take advantage of the personalization options. There are lots of typestyles, ink colors and foil colors for you to choose from. If your invitation allows for a design cut, choose a design to coordinate with your wedding theme. Have that same design printed on favor boxes, napkins, place cards and more.
Add wedding ribbon! Satin wedding ribbon is a great way to add an elegant touch and/or a pop of color to your invitation. It even comes personalized!
Get that DIY look without starting from scratch — embellish your wedding invitations with charms. (Idea: thread one of our heart charms along a satin ribbon and tie it around your wedding invitation.)
Choose a wedding envelope seal from our extensive selection for the perfect finishing touch. This kind of attention to detail always leaves a lasting impression. Want an inexpensive discount wedding invitation with a trendy design? Check these out! All five designs are only $49 per 100 invitations.
Positively Glowing – Hydrangea – Invitation
$49.00 per 100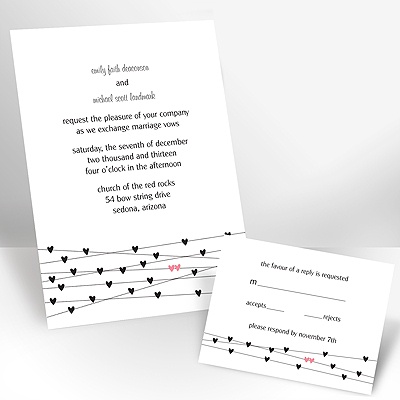 True Serendipity -Petal – Invitation
$49.00 per 100
Floral Delight – Fern – Invitation
$49.00 per 100
Clearly Refined – Chocolate – Invitation
$49.00 per 100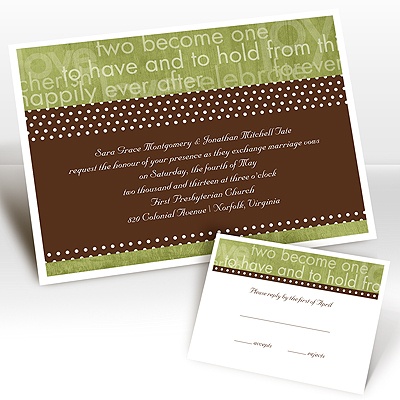 $49.00 per 100