Unity sand ceremonies are becoming more and more popular as an alternative to unity candle ceremonies. Many couples are choosing unity sand over unity candles for outdoor ceremonies or for the joining of two families.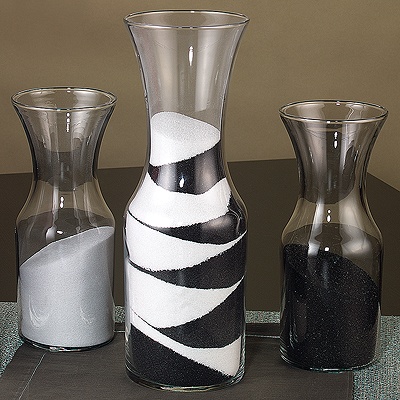 Here's how the unity sand ceremony works:
The couple needs one large, clear vase and two small, clear vases. A white or ecru sand is usually chosen as the base to represent the couple's religious foundation. Then the bride picks a color of sand for her smaller vase and the groom does the same. During the wedding ceremony, the couple pours their sand into the larger vase to symbolize their union. If children are involved, they will each receive their own vase with their own color of sand to be poured as well.
Unity sand can be used in lots of other ways though. Here are a few ideas for incorporating this cute and inexpensive decoration into your wedding:
• Centerpieces — gather some votive holders, small vases or decorative dishes and fill them with sand and sea shells to be used as table centerpieces.
• Sprinkle sand along an aisle runner to bring a beachy feel to an indoor summer wedding ceremony.
•Sprinkle sand on your guest book table or head table for a beachy feel (just be careful during clean-up).
• Get different colors of sand and set up a table for guests to make their own wedding favors. Include various sizes of clear glass bottles and vases for guests to choose from.
• Use unity sand to create weights for helium balloon decorations.
Find additional unity sand colors at our partner's website, MyJeanM.com.