Fall
weddings have become very popular among today's brides, and for good reason!
Autumn lends an abundance of rich tones and natural motifs to work with and,
lucky for you, Ann's also has some great discount wedding invitations,
accessories, favors and decorations to work with!
The Wedding Invitation
Ann's offers some beautiful
fall wedding invitations. Check out these favorites: Fall Leaves, Falling in
Love, Call Me Frenchy, Clearly Refined (in chocolate).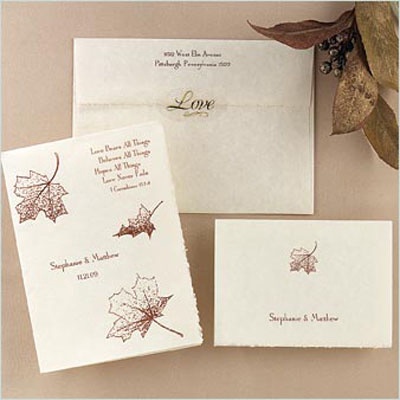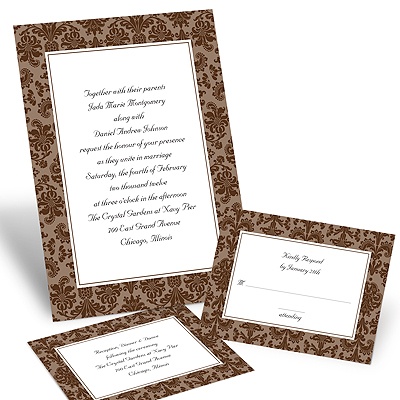 The Ceremony
The unity sand vase set is
an excellent option for your fall wedding, especially if it's outdoors. Find
sand colors to match your wedding colors at your nearest craft store. Or, take
a look at our ecru unity candles and tapers.
Designate reserved seating
with elegant, ecru pew bows and list out your ceremony details for guests in
our mosaic leaf wedding programs.  Our helpful Customer Service team will assist you with the details of getting your wedding programs printed.
Fill handmade paper pew
cones with leaves or flower seeds for guests to throw as you leave the church
or ceremony venue.
The Reception
Guest books and pens are the perfect complement to your fall wedding reception. Add some fall
flair to the guest book table with the ecru plume pen.
Ann's has a huge variety of
items you can personalize with an autumn motif. Check out a few of our leaf
motifs, such as 1663C and 3053C. Have them printed on votive wraps, matchbooks,
notepads, favor boxes, favor bags and place cards.
Choose the perfect color of
napkin to include at your reception for a stylish finishing touch and have them
printed with an autumn design as well.