You've already made a very budget-savvy decision
by choosing to host a backyard wedding and, chances are, the backyard you've
picked has some great qualities already. All you have to do is add some
highlights to the scenery. Try a few of the following budget-friendly, wedding
reception decoration ideas:
White
Christmas Lights


•
Hang them in trees.

•
Wrap them around tree trunks.

•
String them along porches or houses.

•
Drape them inside tents.
Seasonal
Décor

•
Cut bunches of wildflowers for centerpieces.

•
Cut wild vines for ornamental greenery.

•
For an autumn wedding, place colorful pumpkins and squash as centerpieces.

•
Use bunches of corn stalks for ornamental accents.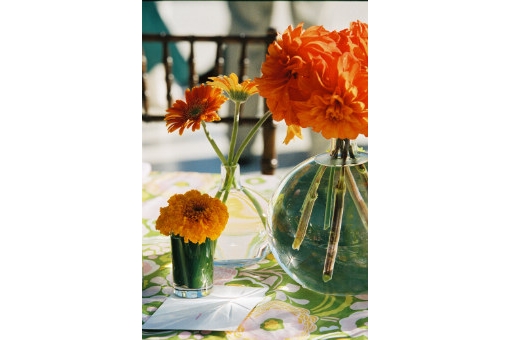 picture from GetMarried.com
Pretty
Paper Accents
•
Find paper lanterns in colors to complement your wedding.
•
Use wedding tissue bells for a romantic touch.
Nature's
Wedding Reception Accessories
•
Make fun signs by painting old planks of wood.
•
Use tree branches as favor trees.
•
Make place card holders by cutting small logs or wine corks into 3-4 inch lengths with a slit
in the middle.
•
Gather tree stumps and large logs to create cluster seating throughout the
backyard.
Something
Borrowed…
•
Many churches allow members to borrow tables and chairs for special events.
Check with your church, but be sure to make some kind of donation in
appreciation.
For
more budget wedding ideas from Ann's Bridal Bargains, check out additional
articles in our Ways to Save and Helpful Tips sections.