If your upcoming marriage will be a blending of
families, you and your future spouse probably want to include your children in
the wedding ceremony. Check out these ideas for giving your children honored
roles in the big day!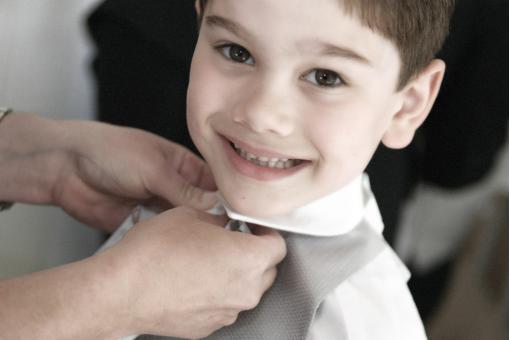 Photograph: Omarr Photography via Get Married
The most common way to incorporate children into
a wedding ceremony is to ask them to act as flower girls and ring bearers.
Traditionally, preschool- and young school-aged children serve these roles,
while older children and teens act as junior attendants.  Ann's Flower Girl Baskets and Ring Bearer
Pillows are perfectly sized for their little hands.
However, in most cases, it's okay to bend — and
even break — these traditional rules in order to give your children a larger
role in your special day. For example, let's say you have two daughters. Who
says you have to have a MALE ring bearer? Let the girls choose matching
dresses, and negotiate which girl will wield the princess wand or flower girl basket
and which will deliver the rings. The girls could even walk down the aisle
hand-in-hand, making for some priceless photographs.
Same goes for boys. Male "flower attendants" can
ring bells, blow bubbles or carry more masculine-looking boxes or containers
full of rose petals. And who says you have to have just one ring bearer and one
flower girl? A troupe of gussied-up children gallivanting down the aisle will
be way cute!
Even infants and non-walking toddlers can be
mini-attendants. Ask an older child to pull your little one down the aisle in a
decorated wagon or pram. Involve an older boy or adult male child by asking him
to walk Mom down the aisle. An adult female child might consider walking Dad.
However you choose to involve your kids, make sure
you speak with them about their roles and honor their wishes. No matter how
cute your daughter looks in her tiara, she just might be more comfortable
watching you recite your vows from the comfort of Grandma's lap.