Not only is Ann's Bridal Bargains a great resource for discount wedding favors, we're also a great resource for wedding favor ideas. Check out these creative ideas, and you might just find the perfect choice for your wedding!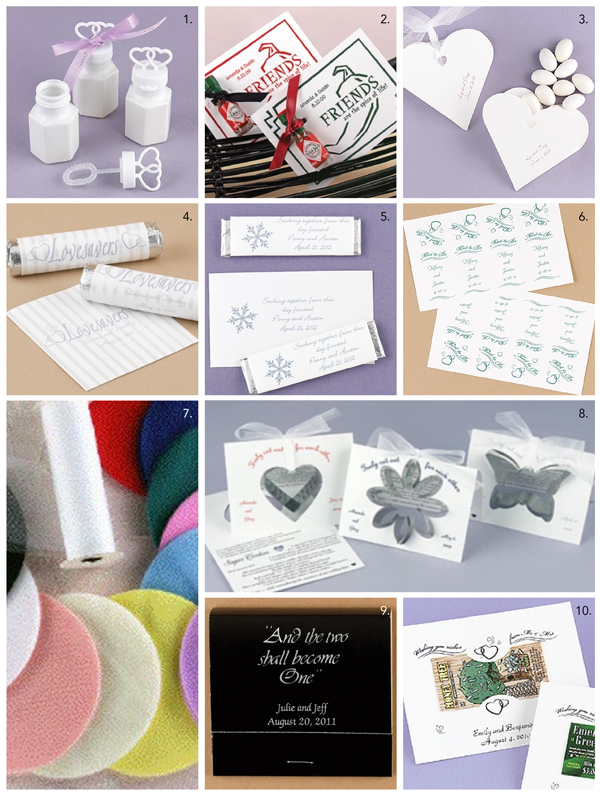 10. Gambling on Love
Ann's lottery ticket holders come personalized with your names and wedding date. Just insert your choice of lottery tickets and let lady luck take care of the rest.
9. Ann's Plays Matchmaker…
Personalized favor matches are a great match for your wedding! Use netting circles to wrap matches up with a votive candle. For more debonair wedding favors, include matches with a cigar within a cellophane bag and tied with personalized ribbon.
8. A Recipe for Love-ly Favors
Whether you choose the heart, flower, cross or butterfly, guests are going to adore these cookie cutter favors featuring the verse, "Truly cut out for each other," your names, wedding date and a recipe for some tasty sugar cookies.
7. Oh, So Cute!
Buy a few boxes of plastic spoons, place a single chocolate kiss on top of each spoon and wrap with netting circles. Then tie a favor tag printed with "A Spoonful of Kisses from the Mr. and Mrs." around the spoon. Sure to get an "Ahhh…" from your guests.
6. Freshen Up
Guests will smile at this clever favor. Our tic tac favor stickers are printed with "Mint to be," your names and wedding date. Now that's a fresh idea for inexpensive wedding favors!
5. Chew On This
"Sticking together from this day forward" is printed on gum favor wrappers for inexpensive wedding favors that are both tasty and fun!
4. A Wedding Favor Life Saver
Purchase rolls of candy and take the outer wrapping off. Replace with our "Lovesavers" wrappers personalized with your names and wedding date.
3. Heartfelt Favors
Simple and elegant. Heart-shaped favor boxes are personalized with your names and wedding date, and can be filled with your choice of candy, nuts, mints, etc.
2. Favors with a Kick!
Our Tobasco® Favor Kits come with a mini bottle of Tobasco sauce along with a favor card printed with your names, wedding date and the verse, "Friends are the spice of life!"
1. Love Is in the Air
Instead of tossing rice after the wedding ceremony, surround the couple with bubbles! Give each guest a bottle of bubbles with a favor tag that says, "Love is in the Air."
Bargainistas! Remember, if an item is shown personalized, it comes personalized for FREE!
Shop Ann's complete collection of discount wedding favors. You might discover a unique idea of your own. If you do, let us know! We want to hear about your inspired idea!