We've got sweet tips to help you save on your wedding cake, wedding cake decorations and wedding cake accessories.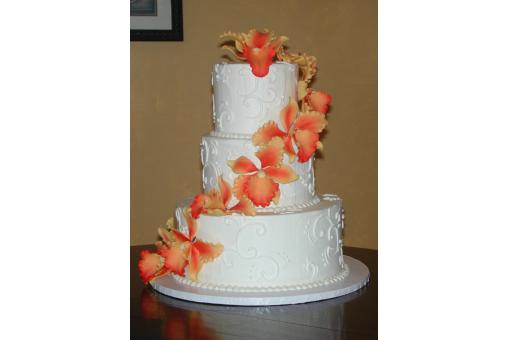 Photograph provided by Creative Cakes via GetMarried.com
1. Want the look of several layers, but don't want to pay the price? Ask the baker to decorate one or more false tiers.
2. Hand-constructed, floral wedding cake decorations are expensive. Decorate with fresh flowers or fruits instead. This fresh look complements wedding reception decorations for any season beautifully!
3. Are there any culinary arts schools near you? See if you can enlist the students to create a wedding cake for a fraction of the typical cost.
4. Don't spend too much on your wedding cake topper. Cheap wedding cake toppers that still look great are out there!
5. If you're confident in your baking skills but don't want to tackle the wedding cake decorations, ask your baker to decorate a cake you provide.
6. Serving sets can get pricey, but you can find a quality wedding cake server set that doesn't put a dent in your budget.
7. Try a less expensive alternative to wedding cake. Cupcakes, pies, pastries and even candy bars are quickly becoming a hot new trend in today's weddings.  We have recently added our Double Heart Cupcake Picks to dress up an array of cupcakes – how fun!
8. Ask around your local community for an at-home specialty baker. You might find a local person that creates specialty cakes on the side for a very reasonable price.
9. Opt for butter cream frosting or a similar inexpensive option. Marzipan and fondant icing are often used for elaborate wedding cake decorations, which are considerably higher in price.
10. It's cheap to be square — square wedding cakes yield more slices than round ones.
P.S. If you plan to do a groom's cake, check out this hilarious "Ball and Chain" cake topper!