Wedding
Checklist / Section 2: Part 3
In the next couple of weeks, we'll be covering key points in reserving
the most common wedding services.
1. The Caterer/Food (Today's Topic)
2. The Wedding Cake Baker
3. The Florist
4. The Photographer/Videographer
5. The Wedding Musicians
Researching and reserving these wedding services can seem overwhelming.
Try starting a binder with a separate section for each wedding service. Include
recommendations, research and budget numbers in each section. Stay organized
and reserving your wedding services will be a piece of cake! Speaking of tasty
treats, let's begin with…
Reserving Wedding Catering Services
First, set your budget.
• Most caterers charge per person, so the cost of your meals will be
directly related to how many guests you invite.
• Allow some cushion in your budget for fees you may not expect, such as
service fees, cake cutting fees and bartender fees.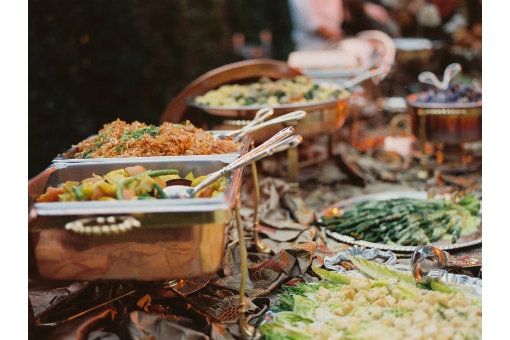 Photograph:  Isabel Lawrence Photography via GetMarried.com

Check with the reception venue.
• If your reception venue provides catering, start your search there.
• Special Note: venues that provide a catering service may not allow you
to bring in an outside caterer, or they may charge an extra fee for doing so.
Get recommendations.
• Make a list of recommended caterers and call each of them.
• Ask the caterer if they're available on your wedding date and if they
are willing to prepare the meal you have in mind.
• If the answer is yes to both, then request an appointment to taste
test their offering.
More questions for the caterer.
• What does the cost include: waitstaff? dinnerware? napkins? (Shop
Ann's for affordable table
covers, table
skirts, napkins
and more if your caterer does not provide these items.)
• Who will oversee the event on your wedding day?
• How will the food be arranged, and can you make special requests for
food arrangement?
• Does the caterer provide alcohol/bar services? Can the bar be handled
separately?
Consider these cheaper alternatives to wedding catering services:
• Check into doing your own buffet-style meal. Italian, Jamaican, Greek
and Asian are all great, low-cost ideas for buffet style meals that still taste
fantastic!
• Have a luncheon
reception or a cocktail and hors d'oeuvres reception. You can plan for less
food person, which brings the over-all cost down quite a bit.