Wedding Checklist
/ Section 2: Part 5
Whether you choose soft and simple or dramatic and elaborate, your style of wedding flowers says a lot about your wedding. Choose a florist that gets your look, and your budget.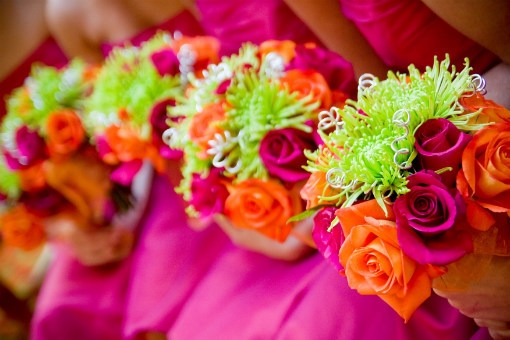 Photography:  Photo 98 Photography via GetMarried.com
Before you start the search:
• Set your budget for wedding flowers.
• Gather clippings of flowers and arrangements you like.
• Gather examples of your wedding colors, style and décor.
• Get fabric swatches of the wedding dress and bridesmaid dresses if possible.
• Take photos of your wedding ceremony and reception venues.
Choosing the florist:
• Create a list of potential florists. You should have at least three to visit.
• Try to limit your search to florists near your wedding venue.
• Ask friends, family or other vendors (caterer, venue) for recommendations.
• Depending on the season, check into local farmer's markets. This is a great money-saving option if you're comfortable with creating the arrangements yourself.
Visiting each florist:
• First, explore the flower shop and see if you like the overall look.
• Ask to see pictures or examples of work they've done.
• Ask if they have references or customer testimonials.
• Ask what flowers will be in season for your wedding.
• Discuss your budget and ask how you can maximize it.
• Does the florist include vases? If you plan to rent or purchase your own, you can find inexpensive vases here at Ann's.
• Ask if you can work directly with the person assigned to do your wedding flowers.
• Ask what the timetable would be for your wedding day.
• Ask when you need to leave a deposit and when the balance is due.
• Remember, your florist should work with you and your budget. Give them room for creativity, but don't choose a florist that tries to get you to spend more or isn't engaged in the conversation about what you want.
Your second visit (with the florist you've chosen):
• The florist should present a proposal with all details and an estimate of cost.
• The florist should be able to present an idea of what your wedding flowers and arrangements will look like through sketches, models or elaborate descriptions.
• Now is the time to adjust your budget or your wedding flowers plan to match up.
• You'll be asked to sign a contract. Make sure every detail about your wedding flowers is covered: check dates, times, all arrangements, exact flowers being used, exact colors, acceptable alternatives, delivery addresses, cost, payment schedule, sales tax, gratuities, overtime charges, delivery fees and cancellation/refund policy.