We can fill you to the brim with great ideas for cheap wedding invitations, decorations, bridal party gifts and more, but are some "big-picture" ideas that will help you reign in the spending before you even start.  One of the largest expenses includes your wedding reception so we are offering five ways to save money.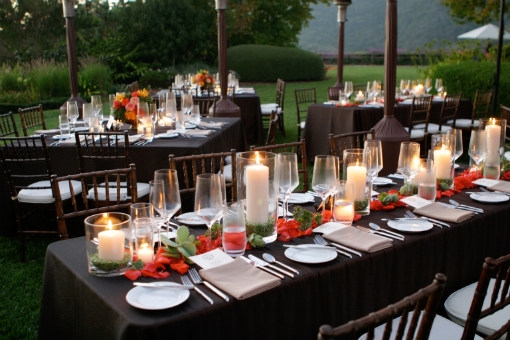 Photography provided by:  Red Loft Studios via GetMarried.com
1. Set Your Budget Right Away.
Don't even look into wedding ceremony and wedding reception venues before you and your fiancé have decided what your wedding budget is. It's much easier to stick to a financial plan if you have one, and you'd be surprised how many couples book wedding venues and services before they've finalized a budget.
2. Shop Around
The secret to being a Bargainista is patience and dedication. If you've found the perfect cake top but think it might be a little pricey, keep shopping. You'll probably find that same cake top somewhere else for less, or you'll find something similar for less. Shop around for EVERYTHING, including your wedding venues, wedding invitations, decorations and more.
3. Find Free Stuff
Go online and look at local boards for sale items or free items. Chances are your local area has the resources you need to find a variety of things for super cheap if not free. Examples: Craig's List and state-run campaigns like Eureka Recycling in Minnesota.
4. Trim the Guest List
It's simple — fewer guests mean less cost. We understand that you want everyone to join in the celebration, but keeping your guest count low will help you save a ton on wedding expenses.
5. Accept Help
Friends and family want to help, which can really help your budget. If your aunt loves to bake, ask her to bake your wedding cupcakes. If your best friend is big into scrapbooking, utilize her talents for DIY wedding invitations. But be tasteful about asking. Don't expect or push people to help. Ask nicely and accept their answer graciously, whether it's yes or no.
Looking to cut the cost on your wedding reception decorations? Read this! Top 5 Cheap Wedding Reception Decorations from Ann's Bridal Bargains.
Also make sure to stop back on Thursday for wedding reception inspiration ideas and how to recreate the look for less!