10 Dos and Don'ts of Thank You Note Writing
1. Do handwrite your thank you notes.
2. Don't e-mail, type, text or call in place of thank you notes.
3. Do write sincere notes with a personal tone.
4. Don't mention if a gift was a duplicate or if you plan to return it.
5. Do mention specifics about the gift and how you plan to use it.
6. Do fake it! Uncertain about what the gift is? Write a note that's vague but heartfelt.
7. Don't mention if the gift doesn't match your style or décor.
8. Do mention how you plan to spend gifts of money.
9. Don't mention dollar amounts or the form in which money was given.
10. Do send thank you notes to everyone involved in the wedding (bridal party, vendors, officiant, etc.)
Check out a few of our favorite thank you notes. They're stylish, affordable and right at your fingertips!
Silver Heart Thank You Cards White Thank You Cards with Silver Foil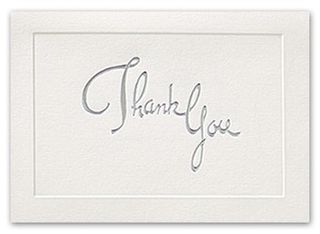 Remember, you can have thank you notes printed to match your wedding invitation by ordering note cards printed with your monogram or "Thank You." This provides a truly coordinated look throughout your wedding stationery.
Check out The Bride's Thank You Guide / Thank You Writing Made Easy for your own personal guide with even more super helpful tips, including sample notes, advice for special situations, a list of helpful descriptive words and more!