Section 2: Part 8
This is it! You've been dreaming about the perfect wedding dress practically all your life. Now that you're engaged, it's no longer a dream. Unfortunately, neither is the cost.
But don't worry! There are things you can do and places you can shop to save big on this long-awaited purchase.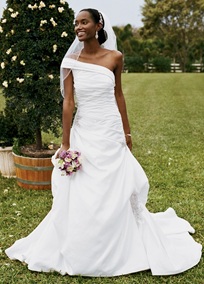 (Photography via DavidsBridal.com)
10 Things to Remember When Wedding Dress Shopping
1. Start shopping nine to twelve months before the wedding.
2. Set your wedding gown budget, but keep it flexible. You'll want a price range to shop within to keep you focused.
3. Begin your search for wedding dresses by paging through bridal magazines, browsing online and getting a general idea of the current trends. Get an idea of what you're looking for so you can ask the right questions while trying on gowns.
4. Set up appointments with wedding dress shops and salons.
5. Most wedding dress shops will pair you with a consultant. Make sure this person is kind, courteous and attentive. You'll be working with them throughout your purchase.
6. Bring close friends or family with you, but limit your entourage to three people.
7. Remember to wear a strapless bra or bustier.
8. Wear control-top pantyhose if you plan to wear them for the wedding.
9. Bring a slip just in case it's needed.
10. Wear shoes with the heel height you want for the wedding.
10 Tips to Help You Save on Your Wedding Dress
1. Don't buy on the first day out. Shop around!
2. Check your local consignment shop for used wedding dresses that are still gorgeous but way less in price.
3. Shop wholesale websites like milanoo.com for fashionable dresses at super affordable prices.
4. When shopping at wedding dress shops, try to buy off the rack for the best deal.
5. Look into white bridesmaid dresses. They're much cheaper and often just as beautiful. 6. Consider how many alterations you will need when trying on wedding dresses. A wedding dress that needs minimal alterations can save you a lot of money.
7. Shop online sites like craig's list or the classifieds in your local newspaper for lightly used dresses at a fraction of the cost.
8. Shop for wedding dresses in the off-season (winter and early spring).
9. If it's possible, wear Mom's wedding dress. Although you may need a few alterations, the meaning behind this gesture is even more beautiful than the next-to-nothing price.
10. Shop discount websites like Ann's for wedding accessories and wedding jewelry.