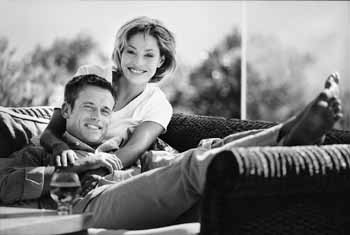 The holidays are just about over and you're finally through with all the stress of finding the perfect gifts, planning family get-togethers and baking what seems like a million cookies.
Now all you have left is…planning an entire wedding. That's a big task, even without all the holiday stuff. That's why we've compiled 10 great tips to rejuvenate your wedding planning spirit.
#10. Take a little time for yourself. Don't jump back into planning right away. Relax a bit. Here are some ways to pamper yourself.  Get a massage. Soak in a hot bath of those lavender bath salts "Santa" put under the tree for you. We recommend Martha Stewart's guide to pampering yourself for more ideas.
#9. Now…get back at it! Just kidding. Start slow, and make sure the first wedding planning tasks you tackle, even if they're not the most pressing, are ones that you enjoy.
#8. Have a low-key party with your bridesmaids to reconnect and get everyone excited again! Plus, you can bounce wedding ideas off of them and get some good feedback.
#7. Get Inspired. Visit www.getmarried.com. It's filled with beautiful photos, super stylish decoration ideas and so much more. You can even preview Get Married magazine online and request one for FREE. It's a great resource for any bride.
#6. Spend some one-on-one time with Mom to talk about low-stress items and a few easy to-dos. She'll be happy to help, and you'll have that great feeling of checking a couple things off the list.
#5. Explore popular wedding blogs. Wedding blogs are great for inspiration and offer really good ideas and how-tos. A few of our favorites (besides Ann's, of course!) are DIY Bride and Style Me Pretty.
#4. Talk with your soon-to-be husband about the things you're most excited about, whether it's the awesome band you lined up for the reception or the fabulous honeymoon you have planned afterward. Enjoy the anticipation together!
#3. Hit those after-Christmas sales! Nothing rejuvenates a Bargainista Bride more than a great deal, and stores are full of them after Christmas and New Year's Eve. Just think about all the holiday décor and products that will be SUPER cheap and could look great as wedding reception decorations. Also, don't forget to check out Ann's Clearance Section for more great deals!
#2. Order some FREE samples of your favorite wedding invitations. You'll be surprised at how much it helps to make a decision when you can hold and feel different examples. And, seeing the real thing is certain to kick your excitement into high gear!
#1. Write your wedding vows, even if that's not a part of the plan. It's exhilarating and refreshing to write down on paper how you feel about the person you love. Even if you never use them, you can't help but be excited after pouring your heart out on paper. And when you're feeling frazzled, they'll be right there to remind you exactly why you're planning this beautiful wedding.