Our design team has put together a few of our inexpensive wedding reception decorations to create a look that's adorable, romantic and cheap! Here's what we did: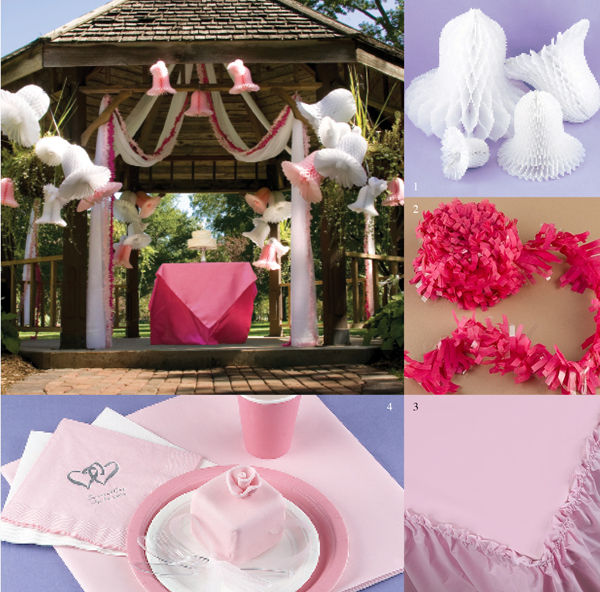 The Place:
Outdoor weddings are a big favorite of brides on a budget since public parks are usually very inexpensive, oftentimes free, to reserve. We chose a nearby public park with a charming, lakeside gazebo — the perfect place for performing nuptials or for highlighting the cake table (as shown here) during an outdoor reception.
The Décor: We've chosen four basic wedding reception decorations from Ann's to create the look: (1) tissue bells , (2) tissue garland, white tulle and colored (3) table covers. We've also highlighted a few coordinating items not shown in the gazebo setup, such as ruffled (3) table skirts, (4) colored paper plates, paper cups and personalized napkins for that perfect finishing touch! And, let's not forget the clear acrylic cake stand.
The Look:
We wanted to create a look that was soft and romantic, yet popped with color. By using white tulle as our foundation, we were able to add touches of pink and fuchsia without over saturating the décor. We placed small and large tissue bells in clusters alongside the gazebo entrances to create a welcoming and romantic feel. Plus, we lined the white tulle with strands of tissue garland to add another level of texture. If you're planning an evening affair, accent the white tulle with strands of elegant white lights.
For coordinating reception tables, browse the table covers, table skirts, dinnerware and napkins for the perfect colors to coordinate with your wedding. Not only will you impress guests with beautiful wedding reception decorations, they'll love your perfectly coordinated reception tables.
By the way, bringing this look indoors is simple. Drape tulle and tissue garland along the head table and/or over reception hall entrances. Then place small tissue bell clusters on each end of the head table, one above the bride and groom and one at each entrance for a look that's oh-so-cute!
Of course, these are just ideas. A beautiful wedding on a budget is all about creativity, so let your imagination do all the work.