Today's world of wedding is filled with color, which is why we're starting a Color Story series — to show you the many affordable options available at Ann's that will coordinate beautifully with your wedding colors.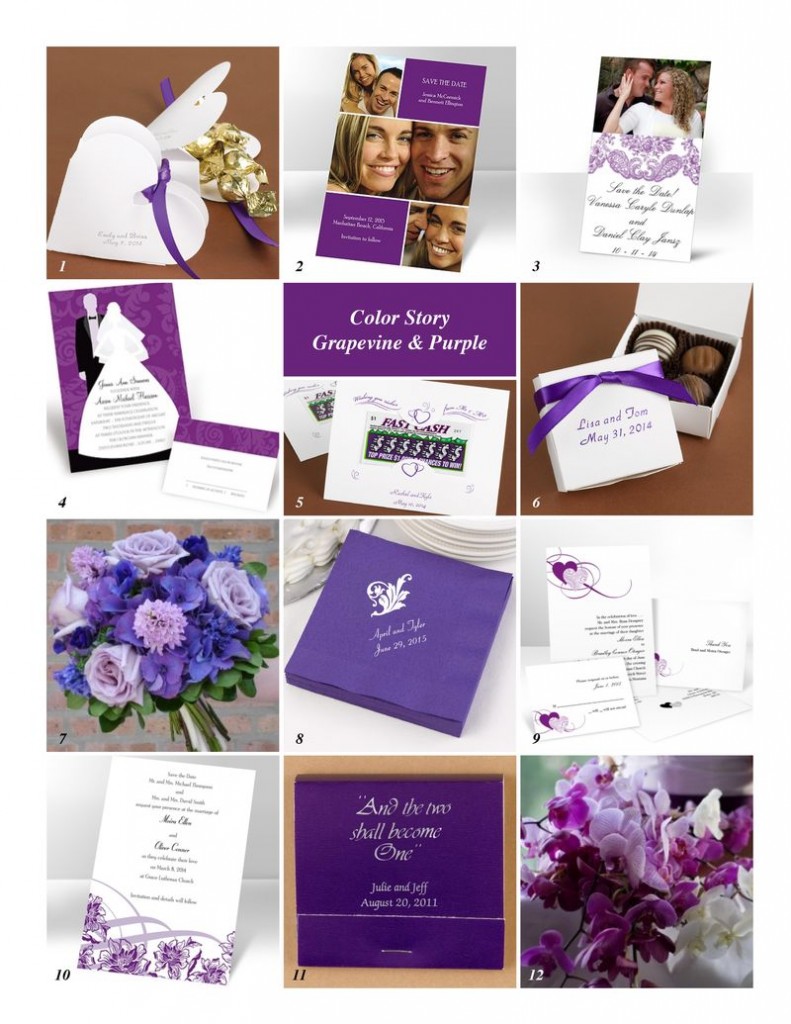 1. Show your love for purple with Heart-Shaped Favor Boxes personalized in purple ink and accented with purple satin ribbon.
2. This photo save-the-date card in grapevine will give your wedding guests a sneak peek at your fabulous wedding colors!
3. Or, you can tease guests with just a hint of color. This elegant photo save-the-date magnet features a light, damask design printed below your photo.
4. The wedding invitations are your first opportunity to really highlight your wedding colors. This invitation, Picture This Wedding Invitation,  combines contemporary style with bold grapevine, leaving your guests ready for an original wedding they'll never forget.
5. Lottery ticket favors personalized in purple ink are perfect for a Vegas-themed wedding or just as unique wedding favors guests will have fun with.
6. Add just the right amount of colorful detail to wedding favors with these White Favor Boxes personalized in purple foil and accented with purple satin ribbon.
7. Bouquets featuring a variety of flowers in varying shades of purple, with a little blue for contrast, look fresh and sophisticated.
8. Imagine a bright pop of purple on every wedding reception table — now that sets a scene! You can pull it off with totally affordable, personalized wedding napkins.
9. The Close at Heart Wedding Invitation in grapevine is simply fitting for introducing your fun and romantic wedding.
10. Or maybe you "heart" flowers. The Flowers and Flourishes Wedding Invitation is right up your alley then!
11. Keep the colorful sparks flying at your wedding reception with Favor Matches in purple!
12. Orchids in purple and lavender are both delicate and eye-catching — an elegant touch to polish off your purple palette.