Putting a little heart into your wedding has never been easier — or cheaper!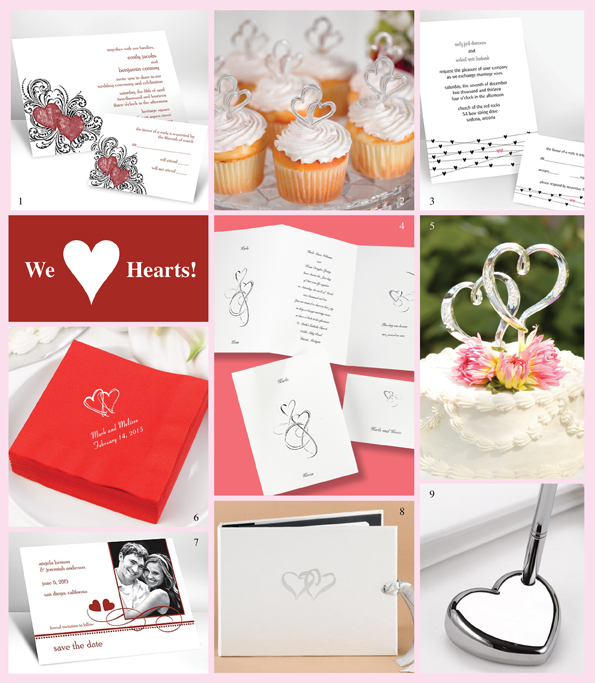 1. The Hearts and Flourishes wedding invitation features dramatic design, which lends a truly romantic quality to your wedding introduction.
2. Double Heart Cupcake Picks make your dessert table even sweeter.
3. The True Serendipity wedding invitation is TOTALLY fitting for introducing your wedding day! Show everyone how fortunate you feel to have found your special someone.
4. The Skipped a Beat wedding invitation doesn't even begin to describe how you feel about your soon-to-be spouse, but it's a great place to start!
5. The Double Heart Cake Pick is more than a romantic accent; it's a glamorous addition to the wedding cake that ties in your heart theme beautifully.
6. Personalized Napkins are printed with your names, wedding date and your choice of design to coordinate with your heart theme.
7. The Two Hearts save-the-date is double the romance with a cute heart design and your choice of photo.
8. The Swish Hearts Guest Book is a big favorite among brides for its simple heart design, shimmering silver ribbon accent and great price!
9. The Silver Heart Pen Set adds elegance to your guest book table and is a beautiful memento you can display in your home office after the wedding. (This item will be online very soon!)
For more heart wedding invitations and accessories to fit your wedding theme, search "hearts" on our website. You'll find lots of choices!