Wedding Planning Checklist
: Section 3: Part 6
Every maid or matron of honor needs to consider the bride's style. Is she up for an all-out Bachelorette bash? Or is she more of a low-key kind of gal? We've got options for both!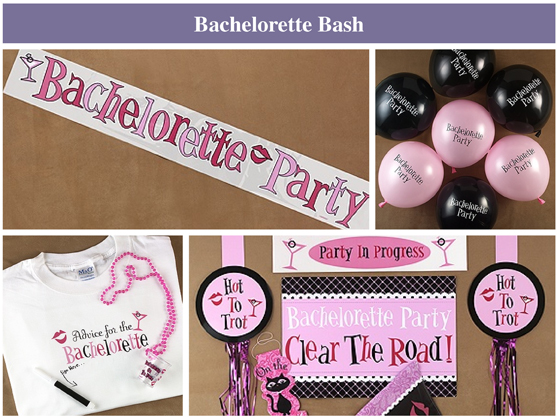 What you need for a true Bachelorette Bash:
Get ready to party with the gals, and make sure the bride has some extra special flair for the occasion!
Start the evening off with the proper decorations. A Bachelorette Banner and coordinating Bachelorette Balloons should do the trick!
The Bachelorette T-Shirt and Shot Glass Set makes for a fun evening and is sure to gather some interesting advice for the bride.
Going out on the town? Make sure your ride is as dressed for the occasion as you girls! The Bachelorette Car Kit comes with lots of fun goodies to add to your car.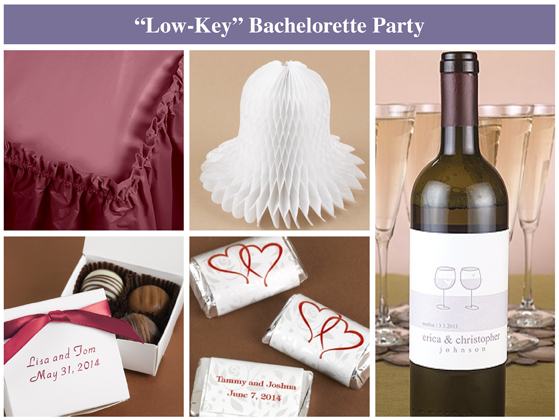 Try this idea for a low-key Bachelorette party:
Host a wine and chocolates Bachelorette party. It's classy, it's romantic, and it's oh-so-tasty!
Decorate with our Wedding Tissue Bells available in wine (perfect!). Check out our Table Covers and Table Skirts in wine, white and chocolate — all great colors for the occasion. Add some draping Tulle and white lights for a classy, beautiful touch.
Fill Personalized White Favor Boxes with chocolates (each favor box fits four chocolates beautifully). Better yet, make your own fudge! You can make lots of fudge for cheap.
For an alternative to favor boxes, order Mini Personalized Candy Bar Wrappers. You pick up the chocolate, we provide the wrapper and you've a got a cute and clever favor that fits perfectly with your theme.
Finish the theme off right with Personalized Wine Bottle Labels. Whether you're choosing the wine or guests are bringing bottles to share, our wine labels are easy to apply and they're a fun addition to any wine party! (Tip: Give extra labels to the bride. She'll love using them after the shower.)