The owner, Nancy White, of Red Shoe Gallery has been a photographer for 15 years, and has been running her own wedding photography business for 5 years with co-owner Karon Dubke. We're lucky to work with Nancy regularly! Naturally, we turned to her to get some insider information and opinions about one of the first things a couple has to tackle after getting engaged — engagement photos.
In the last five years, the increasing popularity of photo save-the-dates and photo wedding invitations has made engagement photos more important than ever. That's why we asked Nancy to share her favorite styles, locations and poses with our Bargainista brides!
Favorite Engagement Photo Style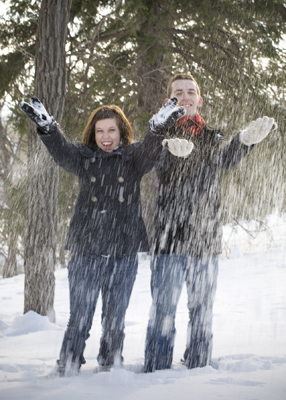 "Fun and artsy is the name of the game for us. We encourage everyone to have fun during the engagement shoot. They can be as creative and original as they want to be. Portraits like this take on a more photojournalistic look by capturing natural, candid moments."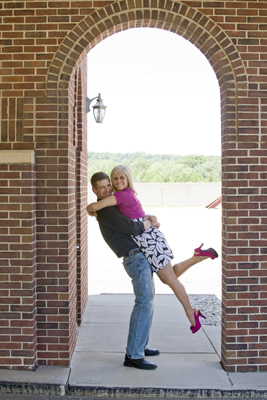 Favorite Engagement Photo Locations
"Our favorite locations are the places our couples choose that make their portraits all about them. We have been on location at a pool hall, in different city parks, numerous college campuses, at the local rail yard and even 'down on the farm.' It's important to us that our couples are comfortable in their surroundings. This puts them at ease and that translates to more natural smiles and interaction between them. And that makes for some memorable portraits that they will enjoy for years to come."
Favorite Engagement Photo Poses
"We approach posing couples a little differently than some photographers in that we 'loosely' pose them to begin with, but then we just let them run with it and we shoot while they are interacting. It gives them the most natural expressions. We will make suggestions along the way, but we try to stay away from the standard, 'forced' poses. We talk with the couple a lot during the shoot. This helps us get to know each other better so they're more comfortable with us the day of the wedding."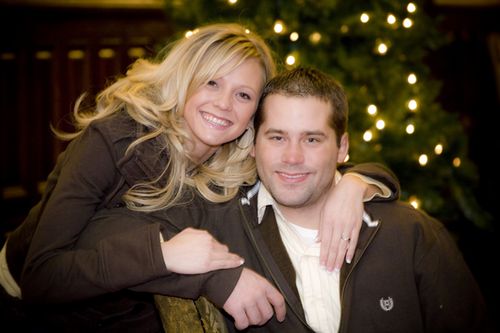 If you have specific questions for Nancy, she'd love to hear them. Just post a comment/question below and we'll be sure to answer all of your photography questions!