Create
wedding reception centerpieces
that coordinate with your
wedding invitations
. For about $5 to $10 per centerpiece, you can tie your look together easily with a little help from Ann's Bridal Bargains!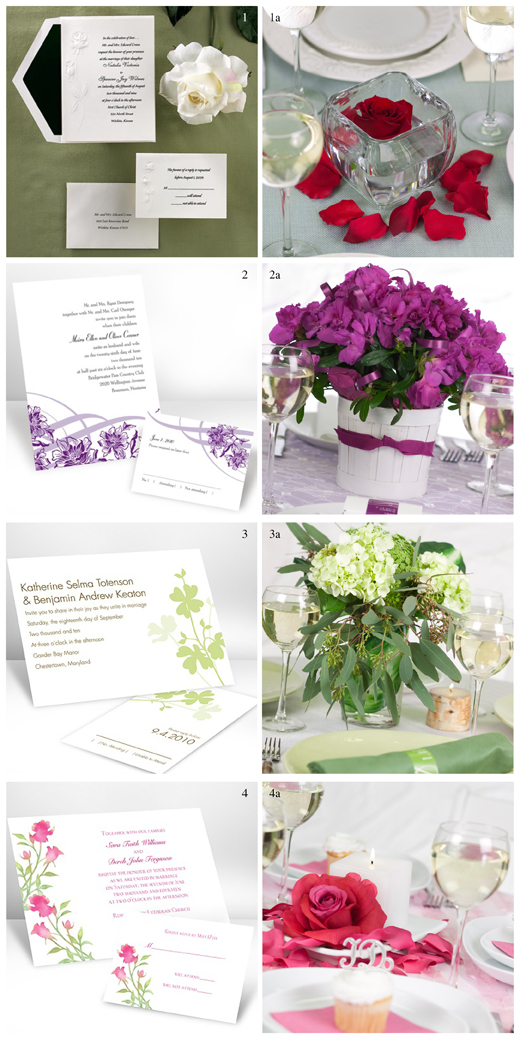 1. The Wedding Invitation: Best Buds. This white invitation is deeply embossed with two elegant roses alongside your wording.
The Centerpiece: Floating Flower. Continue your wedding invitation's romantic theme with a single rose floating in a small, clear glass vase. Sprinkle silk rose petals around the outside for a delicate finishing touch.
2. The Wedding Invitation: Flowers and Flourishes. Charming flowers and trendy flourishes appear in bright, eye-catching color below your wording.
The Centerpiece: Azaleas and Satin. Place azalea plants at each table and add soft touches of satin by looping satin ribbon into the flowers. Tie ribbon around the base to complete your charming look.
3. The Wedding Invitation: Floral Shadow. Silhouettes spring up beside your wording, giving this wedding invitation a fresh, fun look.
The Centerpiece: Simply Green. Keep that fresh, vibrant look going with hydrangea and lots of greens arranged beautifully in a clear glass vase. Use hosta leaves to line the inside of the vase, creating a cool effect at the base while masking plant stems.
4. The Wedding Invitation: Watercolor Roses. With watercolor roses accompanying your wording, this wedding invitation becomes an artistic, sophisticated choice.
The Centerpiece: Mood Lighting. A sophisticated wedding invitation inspires refined style for your wedding, which is why a single rose with lit candle and silk rose petals sprinkled around is a beautiful choice.