It's not just your favorite beauty product anymore — lipstick is a color, and a statement! It's bold, fun and perfect for weddings. Here's some affordable
wedding invitation
s and accessories from Ann's to help complete your wedding in lipstick and other shades of pink.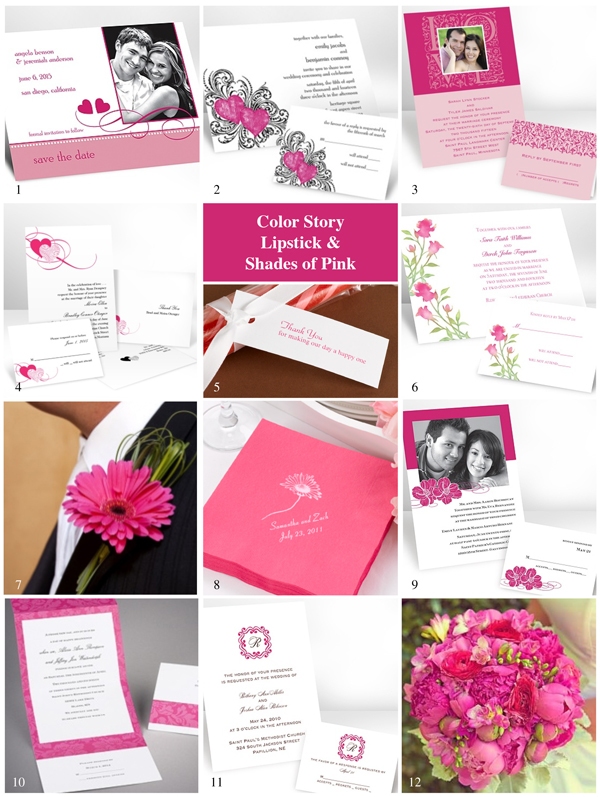 1. Our Two Hearts Save the Date will introduce your wedding with vibrant color, charming design and a beautiful photo of the two of you!
2. If the two of you are romantics at heart, this Hearts and Flourishes wedding invitation in lipstick is the perfect, affordable wedding invitation for your big day.
3. Classic style and true romance come together to form our LOVE Photo Invitation, which really pops with color when you choose lipstick.
4. The Close at Heart wedding invitations will be dear to your hearts when you send them out to introduce your beautiful wedding day.
5. White Favor Cards that say "Thank You for making our day a happy one" in pink imprint will put smiles on your guests' faces.
6. Artistic expression and sensual design create the Watercolor Roses Wedding Invitation — a sophisticated choice of affordable wedding invitation.
7. Simply adorable! These floral place settings are made of bear grass and pink gerbera daisies. They add eye-catching color and style to any table setting.
8. Imagine a bright pop of pink on every wedding reception table — now that sets a scene! You can pull it off with totally affordable, personalized wedding napkins.
9. Colorful flowers below your photo add a delightful touch of design on this Pair of Flowers Photo Invitation.
10. Brightly colored with a stylish flourish pattern, the What a Combo! Seal and Send Invitation is a top choice for affordable wedding invitations in lipstick.
11. If a touch of color is all you're looking for on your wedding invitation, than the Initial Love Wedding Invitation is a great choice for you.
12. A variety of flowers in slightly varied shades of pink will add fantastic color and texture to your wedding bouquet.