Wedding Planning Checklist
: Section 3: Part 7
What's the next most important thing to the wedding gown? The perfect hairstyle to match! Your wedding is your time to shine, and your bridesmaids get to look fabulous as well. Now is the time to start thinking about what to do with hair, makeup and nails.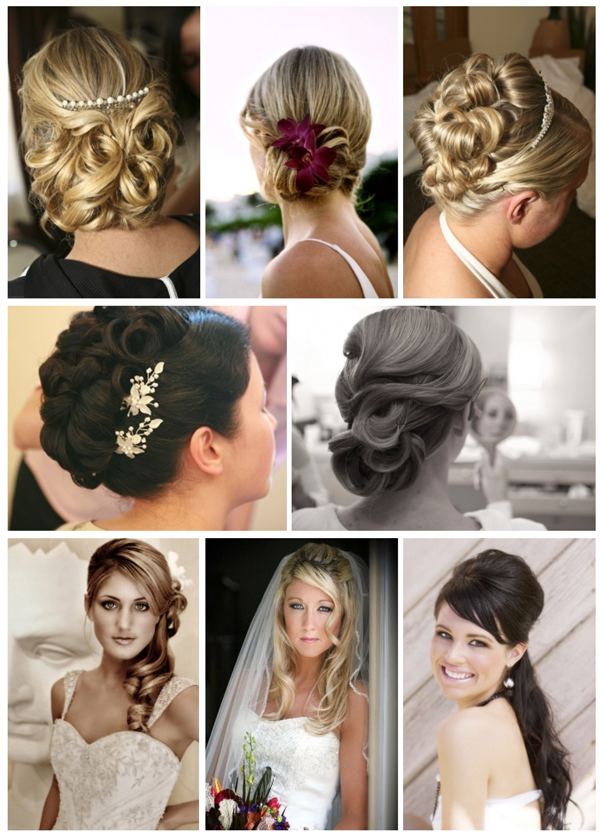 (Photography from GetMarried.com)
Six Months Prior
• Start browsing wedding and glamour catalogs and tear out pictures of hairstyles you'd like to experiment with before the wedding.
• Start chatting with bridesmaids about what they would like to do for hair and beauty. You may want to ask each bridesmaid the following questions:
Do you want to have your hair professionally done?
How about makeup?
Nails?
Do you have recommendations for beauty salons?
• Get stylish totes as bridal party gifts for the bridesmaids. Totes are great for carrying necessities on the big day.
• Start researching potential salons. Ask for recommendations from friends and family. (Look into cosmetology schools and training institutes for great beauty services at low prices.)
• Experiment with colors and cuts.
• Make sure you start a daily skin care routine to help you get that wedding day glow!
• If you want to tone up for the big day, now is the time to start exercising if you haven't already.
One to Two Months Prior
• Choose a stylist and start experimenting with the hairstyle ideas you have. Remember to bring your veil.
• Choose a makeup artist and do a trial run, or do a department-store counter makeover. Then you can purchase what you need and practice for the big day.
• Make appointments. We recommend doing this at least two months prior to your wedding date.
• Get eyebrows waxed.
• Start moisturizing regularly.
• Cut back on tea and coffee and brush with a whitening toothpaste for an extra beautiful smile.
Two Weeks Prior
• Eat right, drink lots of water and exercise to feel good and look great.
• Get a final haircut, trim and/or color touch-up.
• Do a final wedding-day hair trial.
One Week Prior
• Avoid salty snacks and alcohol.
• Get a bikini wax and eyebrow shaping.
• Facial! So relaxing and gives you that final touch of natural beauty.
One Day Before
• Drink water!
• Deep-condition for silky, shiny hair.
• Get a professional manicure and pedicure.