Wedding Planning Checklist
: Section 3: Part 7
Showing your appreciation is important, and we want to make sure you do it "write"! So we've compiled some pointers and etiquette advice on writing and sending wedding thank you cards.
6 Easy Steps to Writing Thank You Cards
1. Begin with a salutation. "Dear Mrs. Michaels," "Dear Uncle John," or "Dear Mr. and Mrs. Anderson" are all appropriate ways to begin a thank you card.
2. Start personally. Let them know who is thanking them. Example: "I would like to thank you…" or "Dan and I would like to thank you…"
3. Mention the gift. Be as specific about the gift as possible. Tell the person how much it is appreciated and why.
4. Mention how the gift will add to your life and how you plan to use it.
5. Sum it up. Include a personal thought about the relationship with the giver or a special memory of the wedding involving them.
6. In closing, give a heartfelt closing with something like "All our best," "Sincerely" or "Love" and sign your name(s).
Dos and Don'ts of Writing Wedding Thank You Cards:
1. Do handwrite your thank you cards.
2. Don't e-mail, type, text or call in place of thank you cards.
3. Do write sincere notes with a personal tone.
4. Don't mention if a gift was a duplicate or if you plan to return it.
5. Do mention specifics about the gift and how you plan to use it.
6. Do fake it! Uncertain about what the gift is? Write a note that's vague but heartfelt.
7. Don't mention if the gift doesn't match your style or décor.
8. Do mention how you plan to spend gifts of money.
9. Don't mention dollar amounts or the form in which money was given.
10. Do send thank you cards to everyone involved in the wedding (bridal party, vendors, officiant, etc.)
Other Helpful Tips for Wedding Thank You Cards: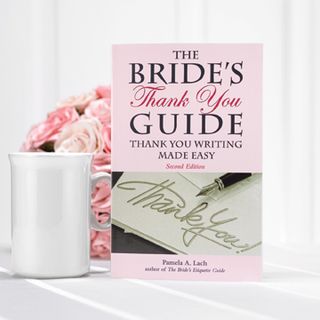 • Buy a supply of thank you cards early and keep up with writing them as you receive shower and wedding gifts.
• Send all thank you cards out within four weeks after the wedding.
• Most thank you cards are available blank and preprinted. Thank you cards preprinted with a thank you message are used to quickly acknowledge the receipt of gifts for couples in a time crunch, but handwritten notes should always follow them.
• Order the thank you cards from the same stationer who supplied the invitations and other stationery for a consistent look in inks, paper colors and fonts.
• Check out The Bride's Thank You Guide: Thank You Writing Made Easy for more awesome tips, ideas and examples.