Wedding traditions and proper etiquette are important to consider for any wedding, but sometimes breaking a few rules to save your budget is necessary. Here are 5 tricks for saving money on your
wedding invitations
that might break some minor rules, but stop you from breaking the bank.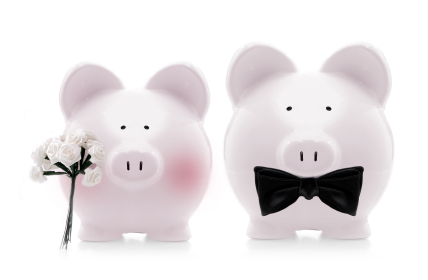 In your corner.
Ann's is always in your corner! We've got you covered when it comes to saving on wedding invitations, and one of the best-kept secrets we've got is corner copy. For a whole $6 more, we will print your choice of wording in the corner of your wedding invitation. You can use this spot for event notes, such as notes on attire, your wedding website or — if you're bold about pushing the etiquette envelope — place reception information there and skip the cost of a reception card.
Dare to be different.
Inexpensive alternatives to the traditional wedding invitation ensemble are not only acceptable these days, they're often preferred due to being unique and sometimes less expensive. Some great options here at Ann's include seal-and-send wedding invitations and sep-and-send wedding invitations. To learn more about these alternative wedding invitations, read What's the Deal on Seal-and-Sends and Sep-and-Sends: Let Unique Design Save You Money.
Try a different kind of postcard.
Respond postcards aren't exactly the "proper" approach to wedding invitations, but they are practical, and we believe practical often outweighs proper for the budget-savvy bride. Besides, most guests simply don't care if the respond card includes a nice crisp envelope or has full postage, and why should they? Respond postcards are inexpensive and require less postage. So, save a tree and a little cash. Check them out today!
Discover your inner tree-hugger.
Skip the inner envelopes – more for the sake of the environment than your pocketbook. Inner envelopes are more of a tradition than a necessity. They're usually included with your wedding invitations for free, but you can specify that you would rather not receive inner envelopes with your order. It's just a small thing you can do for the environment that doesn't cost you a thing, plus it's less addressing for you.
Be resourceful.
Use your wedding website to share important information instead of using extra enclosures. This works well for listing new address information rather than sending at-home cards. Also, if you include the full addresses of the ceremony and reception sites on your wedding invitations, guests can look up directions online. Then you don't have to include a map card, but you can still use your wedding website to post some tips and recommendations for good places to eat, visit and so on. Contact older relatives, such as grandparents, to make sure they receive necessary information.