You've got style and you're going to prove it despite being on a budget!
That's why Ann's top pick for April is the peacock wedding theme. Show off your talent for the bold and the beautiful while staying well within your budget.
Here's how:
Start with the Feather Fancy wedding invitation to introduce your stunning theme. Guests will know they're in for a visual treat after one look at this unique invitation!
Continue your wedding theme by using vibrant colors inspired by the handsome bird itself: blue, teal, green, gold, all of which pair beautifully with a black base color. Don't be shy with shimmer, either. Choose shiny fabrics that capture the light, creating a real show during your wedding and at the reception.
Next, choose wedding favors that tie into your peacock wedding theme. Lucky for you, Ann's has a peacock design cut that can be used on any number of wedding favors! We've shown white favor boxes with the peacock feather in teal. You can have the design cut printed in your choice of color on anything from favor bags to votive wraps to candy bar wrappers.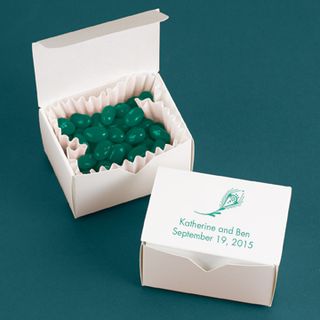 Finally, find wedding napkins in a color that coordinates with your wedding and personalize them with the peacock feather design cut, your names and wedding date. The napkins will add a pop of color to any room and they'll create that perfect, personalized finishing touch.
You know what they say: if you got it, flaunt it! After shopping at Ann's, you'll have plenty to flaunt at your wedding.