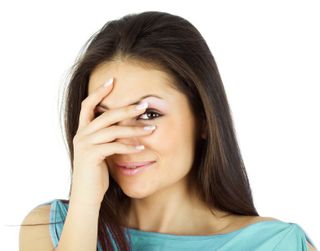 1
st
Place – Elvira with "Oops!" receives $100 to Ann's.
2nd Place – Crystal with "Takes the Cake!" receives $75 to Ann's.
3rd Place – Nicole with "Plus Size Beauty" receives $50 to Ann's.
Enjoy your gifts, ladies — you deserve it! We will be contacting you on Monday so whether you have your eye on discount wedding invitations or bridal party gifts, you get to use your prize money on ANYTHING SITEWIDE!
We've included the winning embarrassing moments below, but be sure to check out our "comments" section for many more. Also…
Dear Nicole,
Your story is a good reminder to EVERY bride out there — flaunt your sexy self on your wedding day and don't let ANYbody tell you differently. Whether you're rocking curves or lacking curves to rock, you've got plenty of beautiful attributes to show off on your wedding day and everyday!
#3. Plus Size Beauty
Every girl wants the dress that she deems "perfect" for her big day, and I am definitely of that mindset! Being a plus size girl is hard, but being at the larger end of plus size, it is hard finding said dress. I am from a relatively small town that only has one bridal shop. Naturally, I started my search there. I gathered my group together for what we expected to be a fun time. I wore the proper undergarments, shape ware and brought pictures. I was ready. We got into the shop, and while waiting looked at some bridesmaid dresses and I thought I saw one that I really liked. The consultant came to get me and she and I started to discuss what I wanted. When she asked me what size dress I normally wore, I thought she was going to drop over. She then told me, "We don't have dresses here for your kind." For my KIND? Really? Apparently the gowns they sell do not come in a "larger plus" size. My MOH was horrified and I just was completely speechless. Needless to say, my dress shopping that day was depressing and embarrassing. This is the biggest day of my life, can't I look awesome too? I was just so embarrassed not only for being "so large" but also because the woman said it in front of my group and another in the salon.
#2. Takes the Cake!
My most embarrassing moment so far has been when I went with my bridal party to try on wedding dresses and my maid of honor brought cake with her so we could celebrate cause she's that kind of girl that likes to celebrate every part of something big, anyways, I tried on this dress and let me metion I didn't really care for it and my sister in law pushed me on the shoulder messing around and I tripped on the bottom of the dress and fell face first in the cake at the dress shop where there was at least 7 or 8 other people there, besides who I had with me, and everyone saw what happened. Not to metion I ended up having to pay to have that dress dry cleaned because cake frosting got on it, so I had to waste money on a dress I didn't even like and be embarrassed by falling face first into cake. what a day that was, needless to say I told my maid of honor no more cakes until the wedding reception.
#1. Oops!
My most embarrassing moment was the day I went to try on my dress for my first fitting. I hadn't been feeling that well the day of and I had the flu the day before. Since it was difficult to get an appt with the lady in the store that I wanted, I just decided to go anyway. When I got there, the lady brought me my dress and we went into the fitting room to change into it. As soon as the dress was on, she started lacing up the back and I felt the urge to pass gas. Then all of a sudden I had to sneeze and realized there was no turning back. I sneezed and passed gas at the same time. The fitting room instantly filled up with stench and the assistant starting coughing. I was mortified. I apologized and she had to leave the room. As if that is not bad enough, I had to continue with the appointment, once I had the dress on, I went over to the other side of the store where I met the lady that was going to do the alterations. She started looking at the bustle and as she went to lift my dress up to look at the material underneath and notice that I had not just passed gas but ended up with diarrhea on the back of my dress… I was so mortified, I tore the dress off and ran out of the store.