Wedding Planning Checklist
: Section 4: Part 1
You have four months to go before the big day, and now is the time to make sure your dream wedding dress fits like a dream!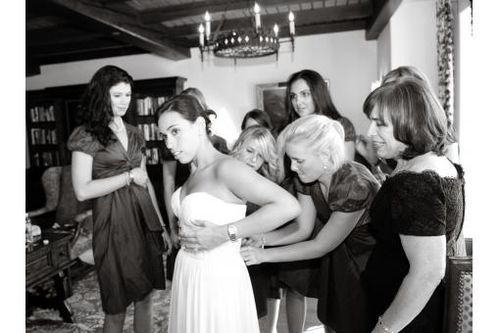 5 questions to ask when scheduling your gown fittings:
1. Are there additional charges for plus sizes, rush orders, special colors, etc.?
2. What is the policy on cancelations?
3. What are the bustling charges? (Bustling is what keeps the dress off the floor after the ceremony.)
4. What are the fitting charges?
5. What are the charges for headpiece alterations?
5 things to remember during your gown fittings:
1. If the store you purchased your gown from doesn't do alterations, they should have recommendations of places they work with regularly.
2. Plan for 2-4 gown fittings.
3. Bring undergarments and shoes to the second fitting and on.
4. Remember, alterations can be expensive. Fewer alterations will be easier on your budget.
5. With that in mind, don't sacrifice comfort to save money! Make sure your dress fits well and let the seamstress know if anything doesn't feel or look right.