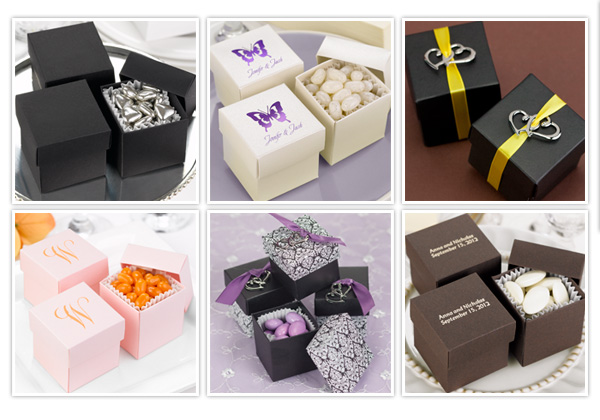 Finding the perfect finishing touches for your wedding favors is key to creating something guests will really admire. Check out these inexpensive ideas for embellishing everything from DIY wedding favors to pre-made favors!
1. Colorful Ribbon (shown above) is always a nice touch for any wedding favor, and the variety of colors available allows you to coordinate with your wedding colors.
2. Stick-on rhinestones and feather accents from Invitations by Dawn are highly stylish and very eye-catching. Let your inner fashionista shine through every favor!
3. Wedding Labels can be found for favor boxes, favor bags, candy, wine bottles and more. Best part is they're fairly inexpensive, so order lots and get creative!
4. Charms are a classic DIY embellishment, which you can easily add to most wedding favors. Check out Ann's selection of Double Heart Favor Charms, Gold Heart Charms and Silver Heart Charms for some cute, affordable options. Or check out your local craft store.
5. Add a unique, natural accent to your wedding favors with handpicked pebbles or small rocks. Just order favor boxes in your choice of natural hue, and hot glue several pretty pebbles in a tile or mosaic pattern on the top!
6. Favor Tags come in a variety of shapes and styles. Plus, they're super affordable and easy to use. Check out Ann's Favor Tags or Favor Tags from Invitations by Dawn for even more great options.
7. Cupcake liners pull double duty as favor box liners and as a pretty accent. Just a quick jaunt to your local grocery store and you can get 100 classic white liners for about a $1. Of course, you can always shop around for more colors.
8. Personalization. We're big fans of personalization. That's why we offer it for FREE on many of our products! From ink and imprint colors to your choice of design, personalization is a beautiful way to embellish.
9. Hard candy is cheap and quite cute! Just glue one or more pieces of colorful candy to favor box lids, on the front of favor bags and along ribbon.
10. Paper Blooms by Gracious Bridal is one of our latest favorite discoveries! They're creative, fun and will brighten up any wedding favor.