Invites a little pale? Décor a little dull? All you need is satin ribbon from Ann's! Our bulk satin ribbon is available in lots of different colors for a great price. Add it to any number of things throughout your wedding for a soft, romantic touch.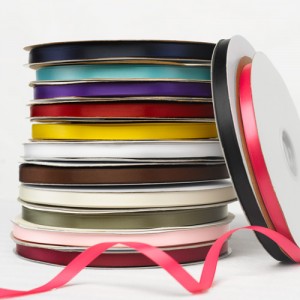 Here are a few ideas to get you started!
Accent your wedding invitations with ribbon. Choose an inexpensive wedding invitation, like our All in White invitation, and spice it up with colorful ribbon.
Tie ribbon around your wedding favors. Satin ribbon adds the perfect finishing touch to any wedding favor.
Add ribbon to bridal party gifts. A beautifully wrapped gift with all the trimmings means you took the time to make it truly special.
Incorporate ribbon into table centerpieces. If your centerpieces are looking a little dull, colorful ribbon is sure to add a little pizzazz!
Wrap ribbon around stems of bouquets. Satin ribbon complements flowers beautifully. Consider adding it to all of your floral arrangements.