Ann's shows you how to create an affordable, stylish dessert buffet your guests will find absolutely delectable!  So, if you are looking for fun wedding cake ideas, we have some great alternatives for you.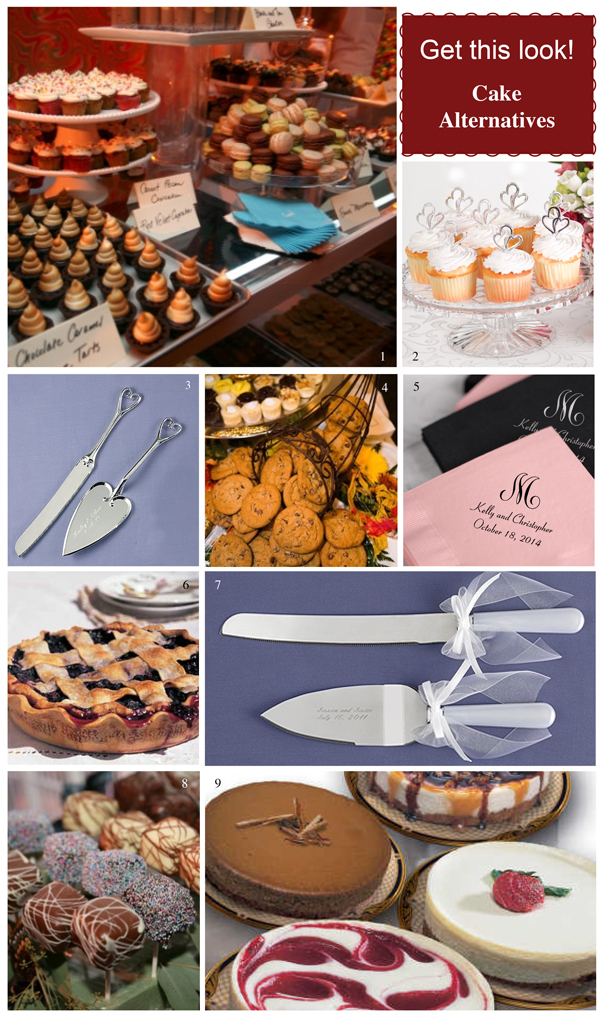 1. It's all about variety and presentation. Ask close friends and family members to bake different desserts for an affordable way to supply your dessert buffet. Also, keep an eye out for cheap ways to display those treats. Cake stands, shiny new cookie pans and glass vases for creating "shelving" are all great ways to add dimension and creativity.
2. Cupcakes are a huge trend right now! Add a little sparkle to yours with silver-tone Cupcake Picks from Ann's.
3. If you include pies or smaller wedding cakes in your display, choose this beautiful Heart-Handled Serving Set for serving your guests. If your dessert buffet is a large table of small cakes and pies, consider ordering two serving sets and place one at each end.
4. Incorporate your wedding theme into your dessert table. The wire cornucopia filled with cookies (shown above) is a nice touch for an autumn wedding reception.
5. Napkins are a necessity for any dessert buffet. Ann's offers Personalized Wedding Napkins in a variety of colors. They're super cute and cheap — you can't go wrong!
6. This homemade creation oozes with tasty goodness. Make sure the desserts you choose reflect the style of your event, whether its classic country or city chic.
7. Satin and chiffon bows add soft romance to this Simply Sweet Serving Set, meant to grace your dessert table.
8. Marshmallows are an inexpensive treat that you can dress up with all kinds of chocolaty goodness and colorful sprinkles. Check out OurBestBites.com for some easy instructions and creative ideas.
9. Cheesecake is a delicious choice for your dessert buffet that offers tremendous flavor and chic style! Choose several kinds to satisfy the craving of any guest.