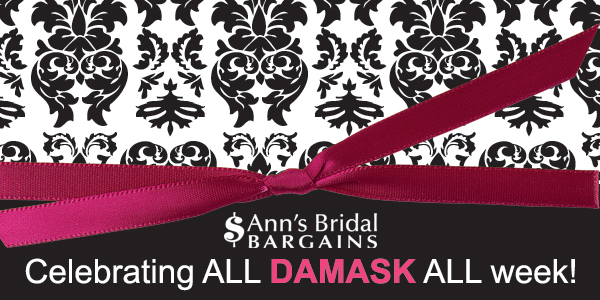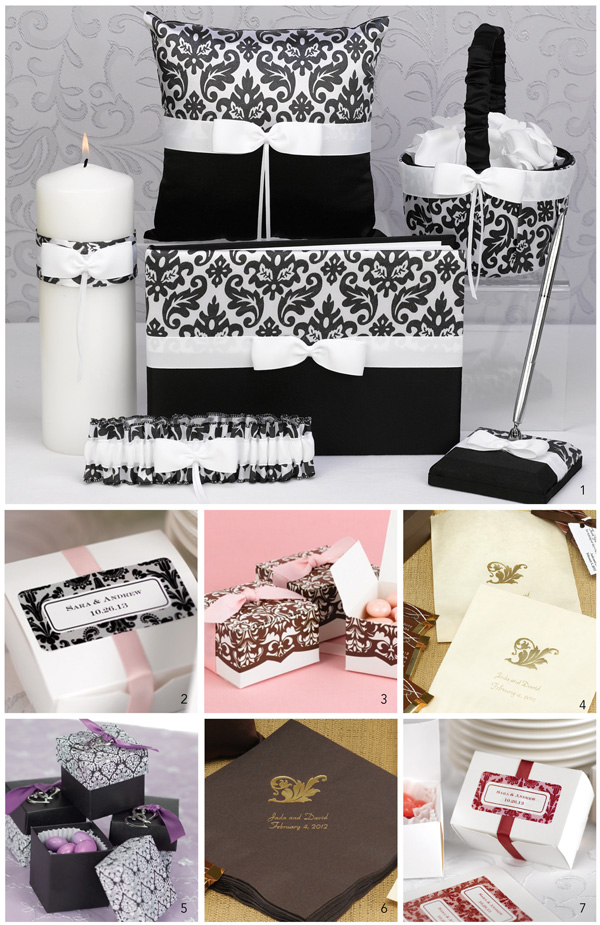 1. Spruce up your ceremony with Elegant Damask accessories in black and white or mocha and ivory. Here are all the options: unity candle, garter, flower basket, ring pillow, guest book and pen set.
2. Damask Wedding Labels are an easy, affordable way to continue your damask theme throughout your wedding and reception. Add them to wedding favors to dress up your reception tables or treat tables.
3. Brown Damask Favor Boxes are simple and radiate sophisticated style. Just fill them with your choice of treat, and add the finishing touch with the INCLUDED pink ribbon!  Can't beat that!  Or add a satin ribbon in another color.
4. Ecru Favor Bags printed with our damask embellishment design cut in gold look absolutely posh! Of course, you can choose any design cut and foil color for your personalization, but our flourish and embellishment design cuts coordinately beautifully with a damask look.
5. Here we've paired our 2-Piece Favor Boxes in black with our Damask 2-Piece Favor Boxes to create a striking combination. We've also includes Satin Ribbon and Heart Charms for a romantic finishing touch.
6. Personalized Wedding Napkins in brown printed with a gold damask design create a rich, warm accent throughout your reception. You can choose the napkin color, foil color and design cut that perfectly coordinate with your wedding on napkins too!
7. Wedding Favor Labels are offered in a variety of colors, so you can get the same look as #2 but with a pop of color.