So many uses for such a simple item! Wedding favor labels and personalized seals are an excellent, inexpensive option for adding a personal touch throughout your wedding. We've listed our top 25 ideas just for you!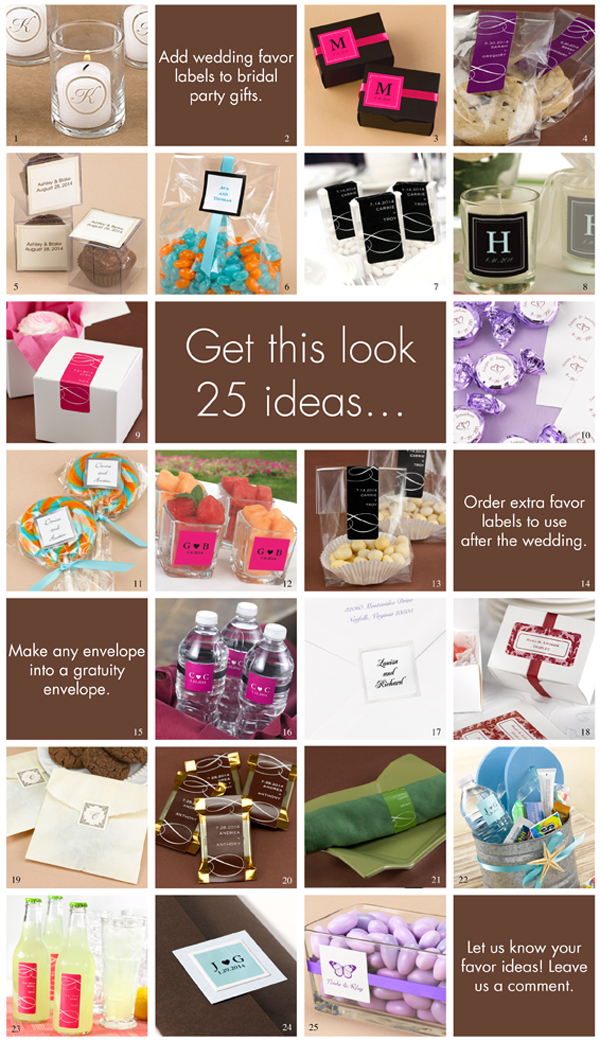 1. Use this trick on clear glass.
Personalize clear glass votive holders or vases with clear, personalized seals and put one seal on each item.
2. Give gifts an extra loving touch.
Wedding favor labels are a great way to dress up bridal party gifts. Add them to the front of attendant bags or as the finishing touch on gift-wrap.
3. Work with contrasting colors.
Brightly colored seals against dark favor boxes create a dramatic look. Place the seal left or right of center for contemporary flair.
4. Keep favors simple.
Clear favor bags are so versatile, and wedding favor labels make them even easier to use. Just fold the bag over once and wrap the seal around the folded edge.
5. Let the treat do the talking!
With clear favor containers like these favor boxes, all you need is a stylish favor label to add some character to each one.
6. Highlight your wedding colors.
Favor labels often come with a choice of imprint color, which means you can create a truly coordinated look with matching satin ribbon. Of course, we went one step further and used matching colored jellybeans!
7. Wrap up your favorite candy.
Make candy into some pretty sweet favors by adding a favor label to each piece. It's easy, inexpensive and guests will love such a cute, tasty favor.
8. Get a modern look.
Pulling off a modern look doesn't have to be difficult. Take these plain glass votives, for instance. A sleek, square favor label in black becomes a striking accent that adds modern flair to a classic favor idea.
9. Be practical AND fashionable.
Seal favor boxes while adding a touch of personalized fashion.
10. Decorate piece by piece.
Add round personalized seals to wrapped candies and sprinkle the candy along wedding reception tables or add to favor bags.
11. Make tasty treats even sweeter.
Wedding favor labels or personalized seals make lollipop favors even more fun!
12. Get creative.
Place fruit or other delicious things inside shot glasses and adorn with favor labels for a refreshing favor guests can keep long after the wedding.
13. Give favors a classic look.
Black and white favor labels will add a classic touch of style to any wedding favor. The swirl design shown here is simply perfect getting that classic look.
14. Always order extra.
Order extra wedding favor labels to use after the wedding. Use them to seal the first batch of holiday cards you send out as husband and wife!
15. Show your appreciation with a personal touch.
Find nice envelopes to use as gratuity envelopes and seal them with your favor labels. Recipients will appreciate the gift and the thoughtful detail.
16. Quench some thirst.
Warm summer weddings and destination weddings are the perfect venues for water bottle favors. Buy water bottles in bulk for the cheapest price, tear off the labels and replace with your favor labels. How clever!
17. Realize their true purpose.
We've given you lots of ideas for how to use wedding favor labels and personalized seals — all but their original purpose! Seal your wedding invitation envelopes for an impressive finishing touch to your ensemble.
18. Play matchmaker.
Match the color of your favor labels with colorful satin ribbon and add to favor boxes or bags for a beautiful wedding favor that showcases your wedding colors.
19. Let your refined taste shine.
Seals personalized with a single initial in script font are sophisticated and elegant. Add to ecru favor bags or favor boxes for a look that's truly elegant.
20. Try this delicious idea.
Most chocolates come wrapped in nice packaging, which means all you need are favor labels in a coordinating color for personalized wedding favors that are delish!
21. Pass on the napkin rings.
Rectangular favor labels are great alternatives to napkin rings. They're MUCH less expensive and they coordinate beautifully.
22. Treat them to a bucket o' goodies!
Many couples are opting to create travel baskets or bags for guests attending their destination wedding. Use favor labels or seals to dress up the goodies you put inside.
23. Stay cool.
Put one label on each bottle, and guests are sure to stay cool with your refreshing beverage favors.
24. Make it special.
Secure invitations or wedding programs with favor labels or personalized seals. We love this idea because it feels like you're opening something extra special!
25. Go from plain to pretty.
It's amazing what you can do with ribbon, especially when topped off with a cute seal. We wrapped a rectangular glass dish with lilac satin ribbon and placed a seal over top for an adorable table centerpiece.