Check out these fall wedding favor ideas designed to be easy, attractive and inexpensive. We've divided them up into 6 different looks. Pick your favorite!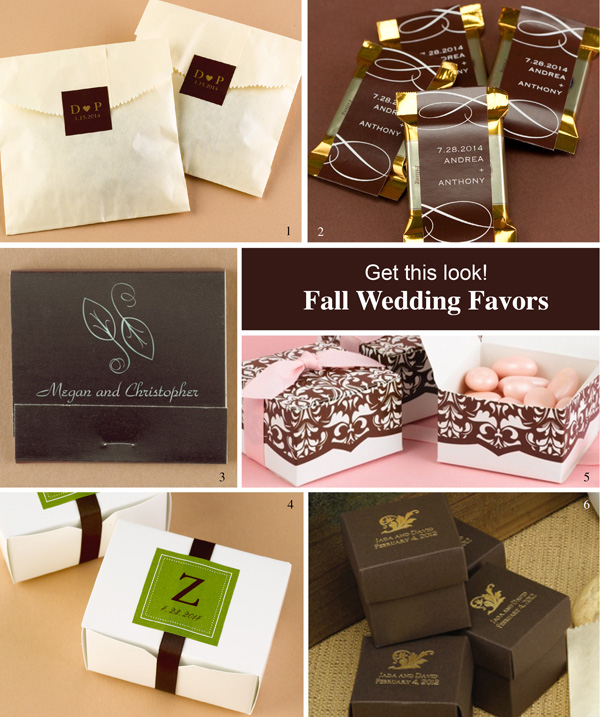 Classic
Initials and Heart Favor Labels – We've combined your love for nature with your love for each other all in one simple favor label, which you can use to dress up a variety of things at your wedding. Use them on favor bags (as shown), as the finishing touch to gifts or placed on wedding programs.
Trendy
Flourish Favor Labels – Flourishes and swirls are a huge trend right now, which means our trendy brides on a budget should jump all over flourish favor labels. They're inexpensive, easy to use and create a stylish accent on everything from candy to water bottles.
Traditional
Mocha Matches – Matches are a traditional favor that fit pretty much any style of wedding, but they're also great for combining with other favors. Tie personalized wedding matches to votive candles for a charming favor. Or drop them in a clear favor bag with a marshmallow, chocolate and a graham cracker, and you've got an adorable s'more kit wedding favor!
Contemporary
Dotted Border Favor Labels – Kiwi is a hot color for fall. It's a naturally vibrant color that fits in perfectly with an autumn palette. Add a kick of kiwi to everything from wedding favors to bouquet stems with dotted border favor labels in the eye-catching color.
Refined
Brown Damask Favor Boxes – If your fall wedding is leaning more toward sophisticated and refined, damask favor boxes are a beautiful option. Fill with treats that coordinate with your accent colors — an impressive detail that won't go unnoticed.
Natural
Mocha Favor Boxes – Autumn weddings rely on natural beauty. Fill mocha favor boxes with nature-inspired treats for a favor that's naturally cute! Try these ideas: "bee" unique with chocolate-covered honeycomb; rock the party with rock candy; show your earthy side with gummy worms; create a buzz with chocolate-covered coffee beans.
Please share how you have used brown or other fall accent colors in your wedding ceremony or reception…and let us know, which look is your favorite?