The NEW A-Team is here (ok, so it's a little cheesy, but we just couldn't take ourselves too seriously).
So, without further ado, meet the bloggers!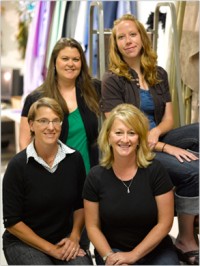 Robin (lower left) is our Style Expert.  She'll be bringing you unique and fresh product ideas from save the dates, to wedding invitations, to wedding accessories.
Carynn (lower right) is our Party Planner (and a half!).  She is thrilled to bring you new ideas for tablescapes, favors, food presentation, centerpieces …all those little details that tie your wedding together.
Shanna (upper right) is our resident Etiquette Consultant.  Look for tips and advice on going with tradition and how trends are changing those, plus great wedding planning tips.
And Jackie (upper left) is the Bargain Finder.  Be sure to follow her to get the scoop on special deals and offers, bargains, giveaways, sweepstakes, and more from all sorts of budget-savvy wedding and registry sites.
To learn more about the A-Team, read the bios to learn what we do at Ann's, what cheap means to us, something you wouldn't expect from us, and more!
We are so excited to start bringing you more ideas on how to pull off a budget-savvy wedding that doesn't look it.
Have questions for us?  Just add a comment to one of our most recent posts, or to this one.