It's time to take those bargain shopping skills up a notch.  Yes – it's time for….drumroll please….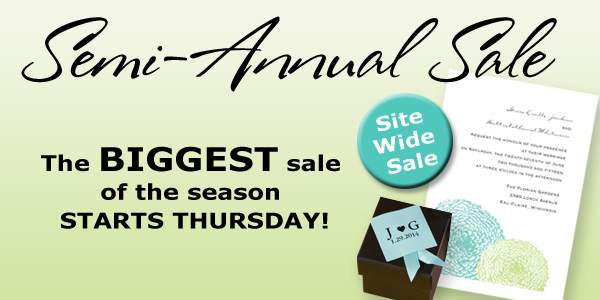 So, take a deep breath, stretch those arms, get those fingers ready for clickin' and grab that mouse before the clock starts tickin'!  Sale starts Thursday, July 7th; and it's SITE-WIDE, so that means all wedding invitations, all accessories and bridal party gifts, and all favors are ON SALE!  No exclusions.
And, definitely check out the clearance section for even sweeter deals.  But be sure to order right away if you find a keeper in that section – quantities are limited.
So, what's the offer you ask?  Just stop back Thursday for details in which you can bask. (ha, ha – as in bask in the sun – how about, bask in the glory of a great deal!)
What are you excited to order?