Wedding Planning Checklist: Section 5: Part 2
Before deciding what route you're going to take for wedding day transportation, check out these pointers to guide you in the right direction. Also, check out our favorite ideas for fabulous getaway photo ops!
1. What's your budget?
Estimate about one percent of your budget for wedding day transportation. This includes all transportation for the bride and groom. Wedding-party transportation and guest shuttles are optional.
2. Wedding-party transport before the ceremony.
This can range from carpooling or borrowing a minivan to renting a limousine. Keep in mind that you do want separate transportation for the women and the men, and parents usually drive separately as well.
3. Wedding-party transport after the ceremony.
This is where the couple will often shell out the money for a limousine or other creative forms of transportation (see our favorites below). If the couple rents a limousine for the bridal party, it's only the bridal party that participates. Parents and plus ones will meet them at the reception.
4. Guest transport before and after reception.
Many couples opt to allow guests to find their own transportation, but if you'd like to provide transportation from your ceremony to your reception or from your reception to the hotel, renting a school bus might be an affordable option.
5. Shuttle services.
A shuttle service is a great form of guest transportation, but often expensive. Talk to the hotel you've reserved for guests. They may have a shuttle service available for later in the evening for an affordable cost.
6. Want guest transport but can't afford it?
Make sure taxi information is readily available. Also, some reception sites will have taxis ready at the end of the evening if you request it.
7. When to reserve.
Our checklist says to reserve wedding day transportation three months in advance. If you're renting a limo, start shopping around six months ahead of time so you can look into best rates and perks between companies.
8. Rent from the same company.
If you're renting more than one vehicle (two limos, a limo and shuttle, etc.), rent with the same company for cheaper rates. Also, consider renting a black van instead of a limo. They look nice, they're comfortable and they're less expensive.
9. Read contracts closely.
Be sure to ask about minimum hour requirements, charges for mileage and drivers' qualifications. You want to well aware of additional costs and credibility.
10. Arrange transportation for elderly guests.
You don't need to rent a car or hire a driver, but do ask a few family members to take care of transporting elderly guests.
BONUS:  5 Ideas for Great Photo Ops!
Now the fun part! These days, it seems wedding day transportation is pretty much determined by what provides the best photo op. So here are a few of our favorite ideas for creating a wonderful wedding getaway that's snapshot-worthy!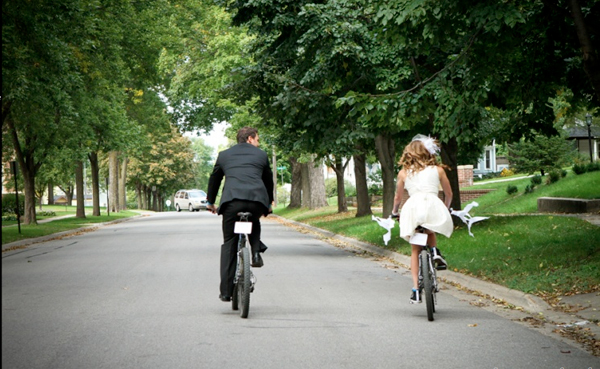 1. Tandem Bike – More and more couples are bringing their love for biking into their wedding. Jump on individual or tandem bikes after the ceremony for a super cute photo!
2. Classic Car – Whether you rent one or borrow one, this getaway vehicle is the coolest of cool.
3. Horse and Buggy – Such a romantic idea for country or city weddings. You'll never get tired of looking at your wedding photos taken in this old-school mode of transportation. (Consider a horse and sleigh for winter weddings.)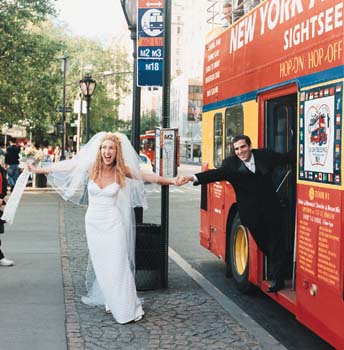 4. Trolley – How fun would it be to get a photo of your whole wedding party on a trolley!
5. On the Water – If you're ceremony or reception is near the water, take advantage! Dare to jump in a canoe, on a paddleboat or gather the whole wedding party on a pontoon for an hour of drinks before the reception.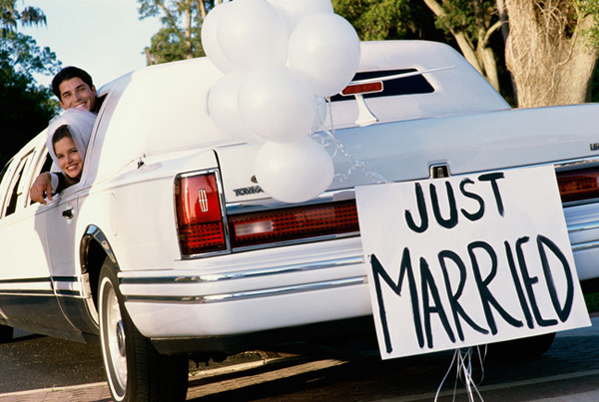 And for more information on planning a flawless wedding day transportation specifically using a limousines you can check out the interview between GetMarried.com and the experts at D&G Limousines.  Happy travels!