What is bright white compared to white? Is ecru the same as cream? Is ivory kind of like ecru? All great questions and easily answered!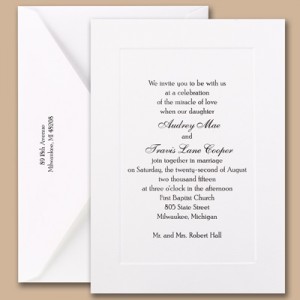 BRIGHT WHITE – stunningly white paper that's crisp and clear. It's the perfect prelude to a "white" wedding. Feel free to order a sample of a "bright white" invite and a "white" invite to compare. Example: Going Twice wedding invitation shown here.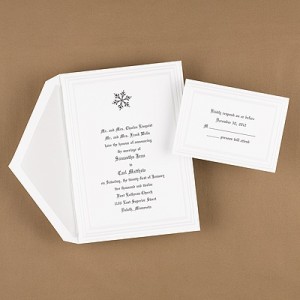 WHITE – this smooth, almost vanilla-colored invitation paper has been the favorite of brides and grooms for decades. Sometimes called traditional white or soft white. Example: Snow White wedding invitation.
ECRU – a subtle touch of creamy color gives ecru paper warmth, which is perfect for an elegant wedding. Ecru is sometimes called cream, but should not be confused with ivory. Example: Going Once wedding invitation shown here.
IVORY – close to white but with tints of yellow, cream or peach. We don't use the term ivory for our invitations, but we do have ivory accessories and decorations.
Helpful Fact: Ecru comes from the French word écru, which means "raw" or "unbleached." In the world of modern day weddings, ecru is simply a color. It doesn't necessarily mean the paper or material is raw or unbleached.
Shop our complete collection of discount wedding invitations to see all of your options for bright white, white and ecru invitations.