Planning a party this Halloween? If your answer is yes, you have already started thinking about decorations, theme, menu and, of course, your costume. For my Halloween parties, I like to create a buffet-style feast. Guests can help themselves to food throughout the night and you can have fun decorating the table.
Label your appetizers or snacks with fun, DIY Halloween name cards. For example, spicy meatballs could be Tortured Toads, or a homemade trail mix could be Owl Toenails and Lizard Eyes. Of course, don't forget your personalized napkins. The personalization is FREE so get creative! They come in two sizes: beverage size, perfect for cocktails or appetizers, and Luncheon size, perfect for meals or messy foods.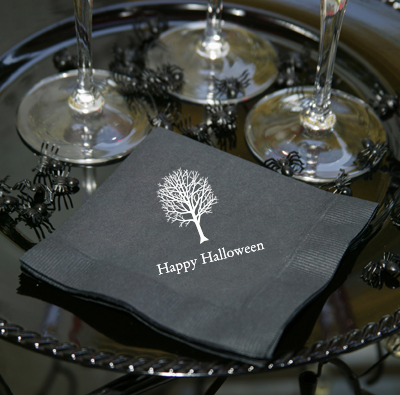 Tip: Our wedding napkins can be personalized to fit any occasion. Check out the many designs available and find one for your next event.
Come back every day this week for more Fall Frenzy and DIY Halloween tips!