Your heart's pounding, your skin is crawling, your palms are sweating…another scary Halloween? Nope. Just everyday wedding planning. It's absolutely frightful how stressed brides-to-be can get when planning a wedding.
Here are the top 5 stressors for brides and how to beat them:
We won't have enough money…
You're on a budget, but the last thing you want is for lack of money to get in the way of your perfect wedding day. First of all, it won't. You can throw a great party with limited means. Check out some budget tools to help you plan and ease your mind. Visit www.GetMarried.com for some great options.
We won't have a great turnout…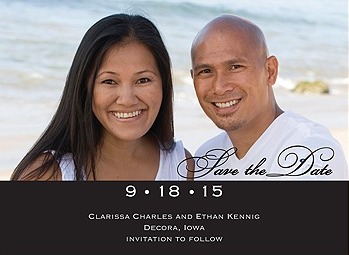 A wedding is all about gathering with your family and dearest friends, and the bride-to-be has every right to worry about who will be able to make it. Might we suggest…save the dates! Save the dates aren't just cute cards you send to tell everyone you're getting married with your photo on it, they're meant to allow the guests to reserve your wedding day well in advance.
What if it rains on our outdoor wedding…
Always have a backup plan. No matter how many times you check the Farmer's Almanac, you will not be able to predict or control the weather. There's no use fretting about it. Choose a backup plan that you're equally happy with and you'll have no reason to gain a single gray hair over this potential threat.
I'll trip or fall on my way to the altar…
All we can say is wear shoes you're comfortable walking in. Even if you have to purchase a pair of white ballet slippers to walk down that aisle, go for it. If you have a floor-length dress, no one will know the difference. Rest assured that even though you'll feel like you're walking on air as you float toward your honey, you'll have two feet planted firmly on the ground.
I'll mess up my lines…
I was the maid of honor in my best friend's wedding a few years ago. She was quite nervous about speaking in front of all her friends and family, and as they said their vows to each other, she said "I, Michael, take thee, Jennifer,…oh wait…" Yep, she got her own name wrong. But everyone had a quick laugh, including her, and the service was still absolutely lovely. Moral of the story: your wedding will be wonderful, even if you mess up a few words.
No matter what happens as you plan your wedding, you can always look forward to that highly anticipated honeymoon. And, just in case you find yourself stressing about packing too much for your vacation, check out our 10 Helpful Tips on Packing Light for Your Honeymoon.