Back in April, people everywhere were glued to the royal wedding. It was a modern-day fairytale and the perfect example of the romance and elegance behind tradition. The royal wedding left no question as to why tradition has become the new trend!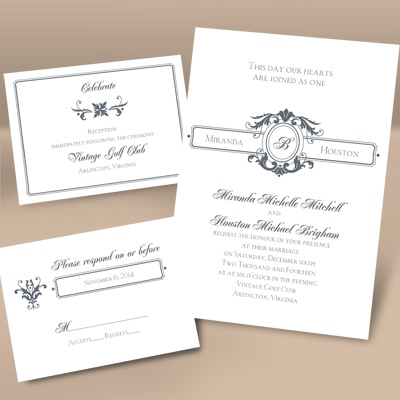 What's old is new. What's vintage is modern. Influences from the 20s, 30s and 40s are emerging in today's wedding fashion, adding beautiful textures and ornate details. A revival of pearls, veils, gloves, brooches and sleeved wedding dresses is making its way through the wedding world. And with this resurgence of old-time fashion comes the beautiful, and always tasteful, monogram.
Historically, a monogram was used as a royal signature. The word can be traced back to the Greek words "mono" (sole) and "gram" (letter). Together they are defined as two or more letters interwoven, an abbreviation of a name. Your monogram is unique to the two of you; it's your insignia. There is not better place to display your insignia than custom monogram wedding invitations.
Allow your monogram to become a part of your entire wedding! At Ann's, you can add a single-initial monogram as a design cut to create monogram wedding invitations. You can also add a single-initial monogram to wedding favors and wedding napkins, both of which will look amazing as personalized touches throughout your wedding.
What traditional wedding trends have you noticed recently?