If you want your favor to fit your wedding's seasonal theme, cellophane favor bags are a great place to start. These fun and colorful favors are something guests can enjoy at the reception or take home with them.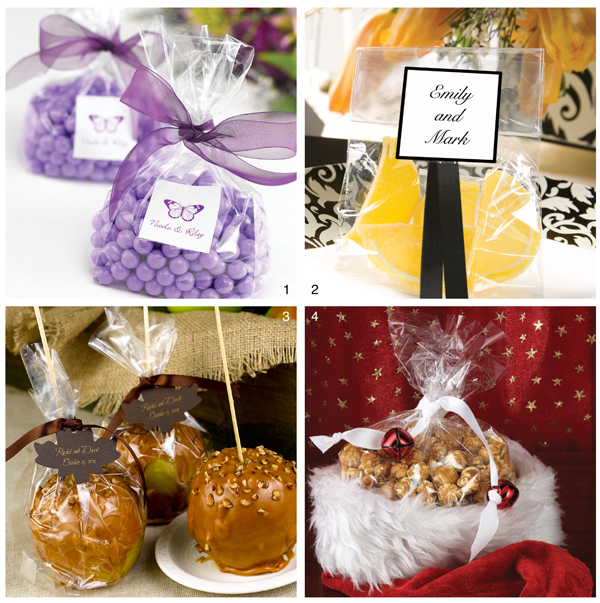 1. Spring Wedding Favor – we've filled small clear favor bags with purple candy, tied them with purple chiffon ribbon and added custom seals personalized with first names and butterfly design cut 5276C.
2. Summer Wedding Favor – here we've filled a small cellophane bag with sugared lemon candies and secured it with a black border seal personalized with first names. A black satin ribbon adds the finishing touch.
3. Fall Wedding Favor – we've used large cellophane bags and placed caramel apples inside. Then we tied the bags shut with mocha satin ribbon and a mocha leaf favor tag personalized with names and wedding date. Trail mix or leaf-shaped chocolate candies also make great fall treats.
4. Winter Wedding Favor – have fun with a holiday theme and make Christmas cookies, mini loaves of bread or caramel corn to fill your cellophane bags. Tie with white satin ribbon and add jingle bells on the ends for a festive touch.
Tip: Keep in mind your location and the temperature of your reception. If it's outside, heat can take a beautiful favor and melt it into a mess. Looking for inexpensive alternatives to candy or treats? Try small scented candles, mini photo frames, flower seed packets or bulbs, lottery tickets in personalized holders, key chains or hot chocolate mix.