'Tis the season for being thankful!  The time of year when we really feel grateful for all the wonderful blessings in our lives — from family, friends, and fiancés to work, love and health.
Planning a wedding during the holidays can be stressful, but I'm sure you've had a few helpers along the way. So thank family and friends for their support and all the planning help they have provided for every wedding related event so far, and of course for coming and sharing in the fun.
Remember the little things this season, go that extra mile and tell everyone you care about how much you appreciate them — because you're a lucky girl! Engaged, soon to be married and surrounded by love.
Happy Thanksgiving from the A-Team. Thanks for following us. We appreciate helping you plan your fabulous budget-savvy wedding.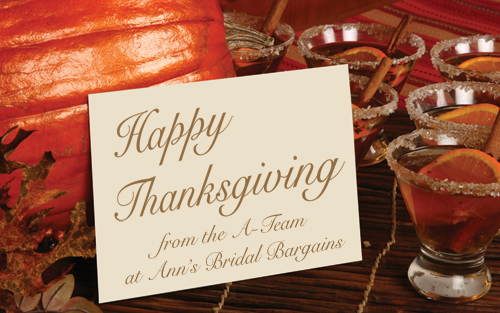 Now go enjoy some great food, family and friends!