The Orchid: An exotic flower of exquisite beauty. Its long green stem ends in several, uniquely shaped blooms of vibrant color (available in a variety of colors and sizes).
Meaning: Love, beauty, fertility
In Season: Orchids are available year-round because they are almost always imported, which also means they are often quite expensive.
Money-Saving Tip: Search for the dendrobium orchid, which is a hearty variety of orchid that happens to be well priced. Colors include white, pinks and purple.
Complementary Accessory: Below we've shown the orchids wedding invitation with coordinating thank you notes. We've also shown our wedding napkins personalized with a single-initial monogram above first names.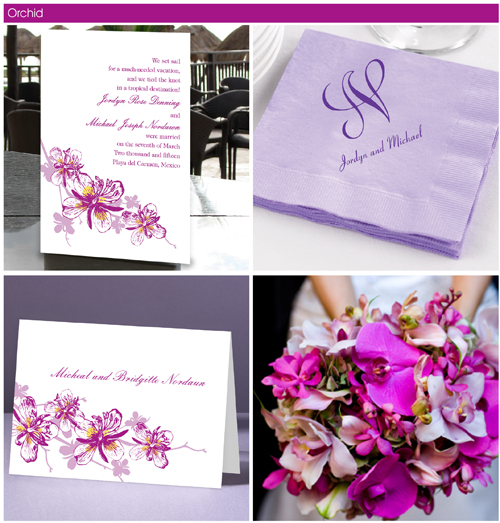 And check back tomorrow for the last beautiful bloom we'll be highlighting this week. We know you're curious, but you'll just have to wait.