The Cherry Blossom: The cherry blossom is a small, fragrant flower that blooms along the dark brown branches of the cherry tree. Pretty and whimsical, cherry blossoms are a modern, romantic choice of flower found in white, pale pink and dark pink.
Meaning: Spiritual beauty.
In Season: Spring. Cherry blossoms have a very limited growing season of just a couple weeks, so finding fresh cherry blossoms for a reasonable price is difficult. We recommend searching for silk flowers at your nearest hobby store. Watch for sales! Hobby stores will frequently reduce their prices on fake flowers.
Money-Saving Tip: A single stem is all you need. Depending on the type of cherry blossom you choose, one or two stems are enough for one centerpiece. Just place them in tall, clear vases for an elegant look. Also, consider purchasing vases. You're likely to find them on sale for less than the cost of renting.
Complementary Accessory: Below we've shown the birds in cherry blossoms wedding invitation, pink favor boxes with a cherry blossoms design cut and wedding napkins personalized with the same design cut, names and wedding date.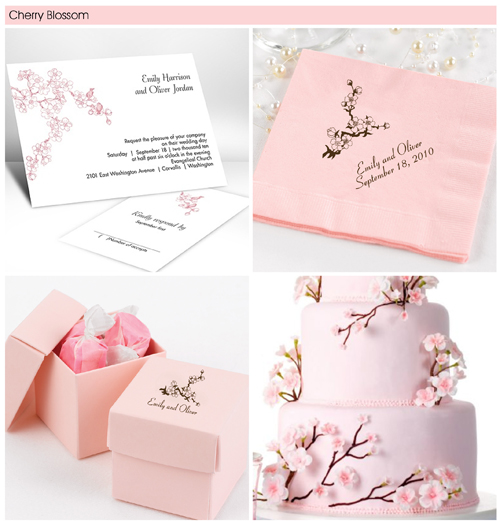 See our complete collection of cherry blossoms wedding invitations and accessories for more ideas and options to coordinate with your wedding.
And check back every day this week for another favorite flower. We may be highlighting your chosen bloom — don't miss it!