The Daisy: A charming flower that's both romantic and cheerful. The Marguerite Daisy is a classic meadow flower with a thick green stem and delicate white petals surrounding a yellow center. The Gerbera Daisy is usually one solid color and available in a rainbow of hues. Known for its longevity, gerberas will still look amazing at the end of the day.
Meaning: Innocence. Thoughtfulness. To share one's feelings.
In Season: Spring to autumn, but are reasonably priced throughout the year.
Money-Saving Tip: Although gerberas are well priced all year long, you'll want to avoid popular colors during particular times of the year. For example, red and white gerberas are more expensive around the holiday season.
Complementary Accessory: Below you'll find the floral delight wedding invitation, daisy ring pillow and wedding napkins personalized with a daisy design cut, names and wedding date. Consider placing two daisies next to each other on top of the wedding cake for an inexpensive cake top that coordinates with your theme.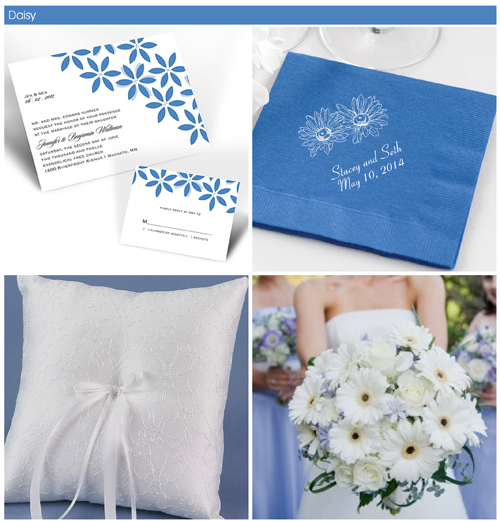 See our complete collection of daisy wedding invitations and accessories for more ideas and options to coordinate with your wedding.
And check back every day this week for another favorite flower. We may be highlighting your chosen bloom — don't miss it!