The Hibiscus: A voluptuous, tropical flower in brilliant colors with large green leaves along its stems. Perfect for destination and beach-themed weddings.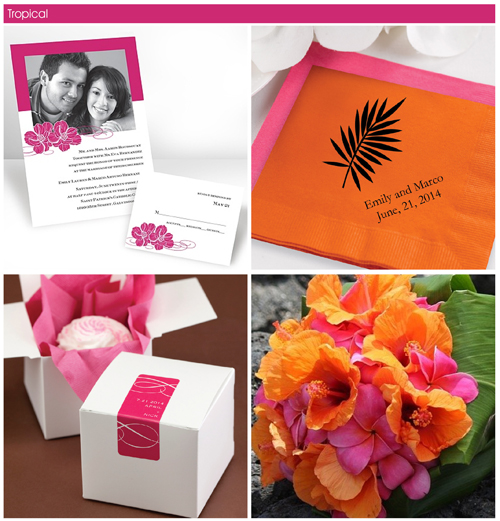 Meaning: Delicate beauty.
In Season: Midsummer to early autumn.
Money-Saving Tip: Don't worry about having flowers throughout your reception. Your bouquets are the only floral touch you need. Display them with bouquet holders at the head table. Then continue your tropical theme by adding the vibrant color of hibiscus flowers to your reception tables with personalized napkins in bright orange or fuchsia. Napkins will add just as much color as floral arrangements for a fraction of the cost!
Complementary Accessory: We've paired our pair of flowers wedding invitation and coordinating enclosure cards with our large white cake boxes secured closed by flourish favor labels in fuchsia. The wedding napkins we've shown are personalized with a complementary palm design cut, names and wedding date.
See our complete collection of tropical wedding invitations and accessories for more ideas and options to coordinate with your wedding.
We hope you enjoyed Floral Week at Ann's! Let us know if you've chosen a flower we didn't mention. We'd love to hear how you're featuring them throughout your wedding.