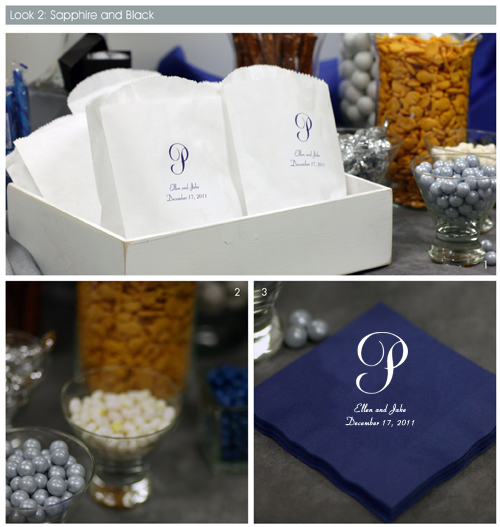 Classic black and white is always an elegant choice, and it just so happens to fit the White Sox theme perfectly. Our party planner, Carynn, put together a simple yet very attractive look by using clear glass vases and bags as well as black and white bags, favor boxes and napkins. A flourish design cut is carried throughout this look as well. See below for product details!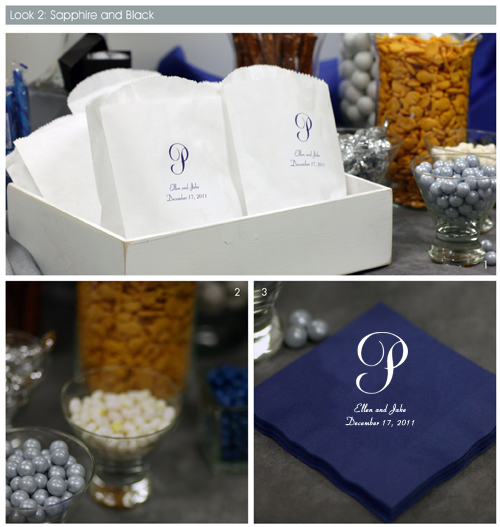 Since White Sox colors are black, white and blue, Carynn wanted to create a look where the blue really popped, as that is one of the bride and groom's wedding colors, but remained tasteful and traditional. Blue becomes an eye-catching element of color that really ties everything together, from the napkins to the candies. See below for product details!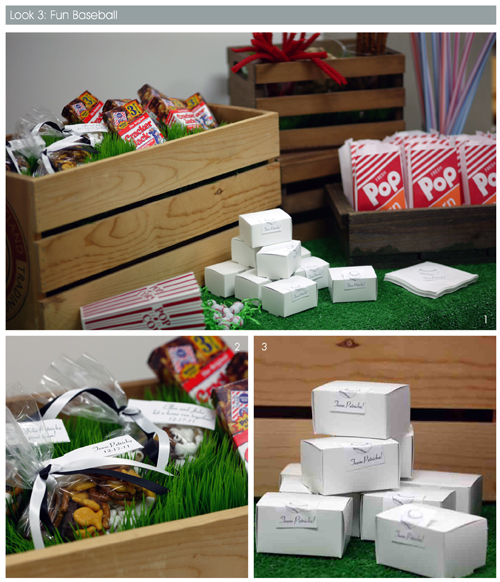 This look totally says "Take me out to the ball game!" Wooden crates, fake turf and fake grass create a presentation that can't be beat. And, of course, classic popcorn bags and cracker jacks are fun treats to offer guests. See below for product details!
Look #1: Classic Black and White
1. Cellophane bags were filled with popcorn and sealed shut with flourish favor labels in ebony. The favor labels are custom printed with "7th inning stretch." Black satin ribbon was added as the finishing accent. Also shown are clear glass vases of varying sizes and heights filled with a variety of treats and accented with black satin ribbon. Black personalized napkins stacked on top of coordinating white napkins complete the look.
2. White favor bags were personalized with a flourish design, names and wedding date in black foil. Favor bags can be pre-filled or filled by guests.
3. Black favor boxes were personalized with pearl border seals in white featuring just first names. Favor boxes can also be filled ahead of time or set out for guests to fill.
Look #2: Sapphire and Black
1. In this look, the white favor bags are personalized with a single initial, names and wedding date in blue foil and nicely stacked in a white wooden box for simple presentation.
2. Once again, clear glass vases were used to elegantly display a variety of treats. Treats can be scooped by guests into whatever favor boxes, containers or bags the couple chooses.
3. Royal blue wedding napkins are personalized with single initial, names and wedding date in white. The blue napkins give that final pop of color needed to make this buffet table an excellent representation of the White Sox theme.
Look #3: Fun Baseball
1. Carynn used real wooden crates and boxes for presenting cracker jacks and classic popcorn bags. You might find crates at your local hobby store, but also check with your local grocer for any giveaways. Fake turf can be found at home improvement stores. Cracker Jacks are available at most large grocery stores, and classic popcorn bags are often found at party stores or department stores.
2. Clear cellophane bags are filled with homemade trail mix and tied closed with black and white stain ribbon. Carynn also added white, personalized favor cards.
3. Ann's white treat boxes are shown here with the create-your-own seals in white. The baseball design cut shown is a custom design cut, meaning call us and we'll work with you if we don't have the design cut you want!
Come back tomorrow to see what Jake and Ellen have chosen for their buffet table look!